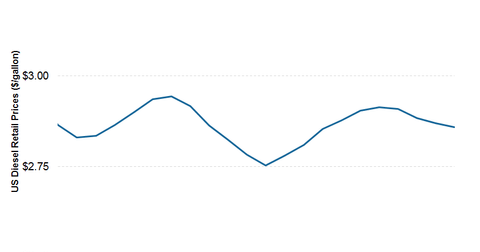 Diesel Prices Remain on Downward Trajectory in Week of June 22
By Keisha Bandz

Updated
Diesel prices
US On-Highway Diesel Fuel Price for this Monday, June 22, was $2.859 per gallon. This represented a decrease of ~0.4% from the previous Monday's (June 15) $2.87 per gallon. Prices were 27% lower from the levels a year ago.
The EIA (Energy Information Administration) releases diesel fuel price updates every Monday. These prices are national averages calculated by the EIA.
Article continues below advertisement
Why diesel prices matter
A decrease in diesel prices is negative for refiners such as Phillips 66 (PSX) and Marathon Petroleum (MPC), both of which make up 4.2% of the iShares US Energy ETF (IYE). They're also negative for MLPs (master limited partnerships) such as MPLX LP (MPLX) and Phillips 66 Partners (PSXP), as well as refining MLPs such as Calumet Specialty Products Partners LP (CLMT).
Diesel is an important fuel used for transportation purposes, particularly in the commercial or logistics sector. Apart from impacting household expenditure patterns as we discussed with gasoline earlier, diesel prices also drive business costs. This has a major impact on the economy. Lower fuel costs are good for businesses and households.
Apart from crude oil prices discussed in Part 1, diesel prices are also impacted by distillate inventory levels, which in turn are determined by supply and demand trends. Refer to Distillate Inventories Rise Less than Expected in June 12 Week to learn more about last week's trends.
Diesel price forecasts
According to the EIA's Short-Term Energy Outlook released on June 9, diesel fuel retail prices will average $2.88 per gallon in 2015, and then rise to $3.04 per gallon in 2016. It averaged $3.36 per gallon in 2014.
The EIA's Annual Energy Outlook for 2015 (or AEO2015) released on April 14 states, "The effect of rising crude oil prices on distillate fuel use in the United States is less than for motor gasoline, because of a greater increase in distillate fuel demand as freight requirements continue to grow and the mix of light-duty vehicle fuels shifts from gasoline to diesel fuel."
So, a sustained rise in diesel prices will negatively impact drivers and freight operations alike. This is generally negative for the economy (SPY).