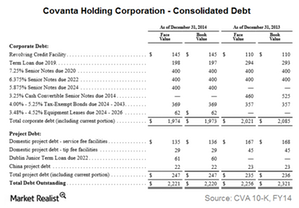 Covanta Holding's Leverage: Is It Too Much to Handle?
By Mike Sonnenberg

Jul. 7 2015, Updated 11:05 a.m. ET
Debt profile
As of December 31, 2014, Covanta Holding Corporation (CVA) had a total debt of $2.22 billion, marginally down from the previous year's $2.23 billion. Covanta issued $400 million in new debt in fiscal 2014 and prepaid a $595 million term loan. The company raised $60 million in new debt for the Dublin facility in fiscal 2014.
Overall, about 90% of CVA's total debt was in the form of corporate debt. The remaining was in the form of project financing. Debt maturities are fairly spread out with no major maturity coming up before 2019, when $356 million, including a $145 million revolving credit facility, comes due. Beyond 2019, $1.75 billion worth of debt will mature.
Article continues below advertisement
Credit rating profile
Moody's (MCO) has rated Covanta Holding Corporation (CVA) at Ba2 with a stable outlook. The rating is a speculative grade rating. It's supported by consistent cash flows and credit metrics as well as a good track record of dealing with credit-worthy counterparties. The rating is constrained by CVA's leveraged capital structure, aging fleet, increasing operating expenses, and lack of growth.
CVA's major peers are rated at investment grade by rating agencies. Waste Management (WM) is rated at Baa2/Stable by Moody's and A-/Stable by S&P. Republic Services (RSG) is rated at Baa3/Stable by Moody's and BBB+/Stable by S&P. Stericycle (SRCL) is rated at A/Stable by S&P. Waste Connections is rated at BBB+/Stable by S&P.
Liquidity
Covanta had total available liquidity of $784 million as of December 31, 2014. Of that amount, $91 million was in cash and the rest was in the form of available credit lines. The liquidity was sufficient to help the company continue operations at least for the next 12 months. CVA is part of the iShares Russell 1000 Growth ETF (IWF).