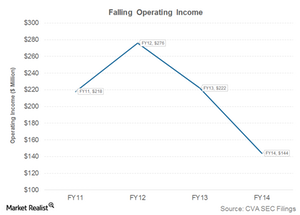 Why Is Covanta Holding's Cost of Sales Rising?
By Mike Sonnenberg

Dec. 4 2020, Updated 10:52 a.m. ET
Operating expenses
While Covanta Holding Corporation's (CVA) revenues increased marginally during fiscal 2014, cost of sales saw a substantial uptick during the year. The company's operating expenses increased by $130 million, or 9.2%, to $1.538 billion against revenue growth of 3.2%.
Plant operating expenses were the biggest contributor to the rise, increasing by $63 million to $1.055 billion. The rise in plant operating expenses was due to higher fuel costs in 1Q14 and higher employee compensation expenses. The waste transfer stations acquired in 4Q13 also added a $15 million rise in operating expenses.
General and administrative expenses rose by $15 million to $97 million. The company reported $64 million in the following write-offs:
$14 million write-off off when the company sold its insurance business below book value
$34 million write-off related to impairment of tangible assets
$16 million write-off related to contract intangibles
Article continues below advertisement
Operating income
Operating income is calculated as revenues minus operating expenses. Covanta's operating income fell to $144 million, or 8.6% of revenues, in fiscal 2014, from $222 million, or 13.6% of revenues, in fiscal 2013. This is the second straight year that CVA's operating income has dropped. All of CVA's major peers, including Waste Management (WM), Stericycle (SRCL), and Republic Services (RSG), have reported increases in operating incomes during the year. WM, SRCL, and RSG are components of the S&P 500 Index (SPY).
Adjusted EBITDA
CVA's adjusted EBITDA (earnings before interest, taxes, depreciation, and amortization) fell to $474 million, or 28.2% of revenues, in fiscal 2014, from $494 million, or 30.3% of revenues, in fiscal 2013. The fall in adjusted EBITDA was less severe compared to the fall in operating income, since EBITDA calculation adds back write-offs and other non-cash expenses.