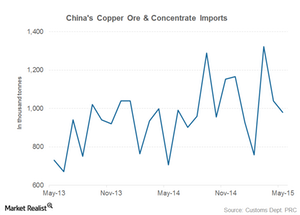 China's Copper Imports Dip in May Month-over-Month
China's May copper imports
Previously in this series, we discussed the trends in Chinese refined copper production. While China (MCHI) is the largest consumer of copper, it's not self-sufficient in its production of the metal. China needs to import raw copper for its smelters and refining plants.
Copper mining is concentrated in Latin America (ILF). From there, it's shipped to Asia, where more than half of copper is consumed. In this part of the series, we'll look at China's copper imports in May.
Article continues below advertisement
Copper trade
China is the largest importer of copper ore, anodes, and refined copper. Chile, on the other hand, is the biggest exporter of these products. Japan is the second-largest importer of copper ore and concentrates, and India is the third-largest. These countries process copper ore into refined copper.
Imports decline in May
The chart above shows the trend in China's imports of copper ore and concentrates. In May, Chinese imports dipped by 5.7% over April. Nevertheless, compared with May 2014, imports increased by a whopping 40%.
Having said that, China's copper imports dipped unexpectedly in May 2014. That month, China imported only about 0.7 million tons of copper ore, the lowest quantity since June 2013.
Investors should generally look at YoY (year-over-year) changes in data, as this removes the impact of seasonality. In this case, YoY changes don't give a clear picture because of the above-mentioned anomaly.
The decline in China's copper imports is a negative sign for copper producers including Vale (VALE), Buenaventura (BVN), and Newmont Mining (NEM).
In the next part of our series, we'll discuss how copper production is progressing in Chile.