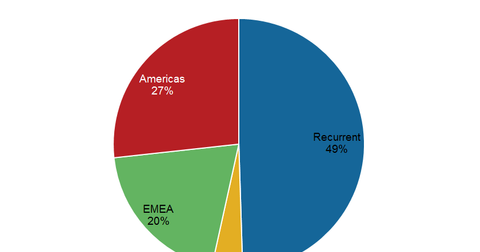 Canadian Solar's Recurrent Energy Acquisition: Synergy Analysis
By Saania Malik

Jun. 26 2015, Updated 10:07 a.m. ET
History of Recurrent Energy
Incorporated in 2006, Recurrent Energy is a California-based developer of solar projects in North America. It has 4.3 GW of energy in its pipeline, 1 GW of which is in late stages. In March 2015, the company was acquired by Canadian Solar (CSIQ) from Sharp Corporation (TYO) for $265 million in cash.
Article continues below advertisement
Synergies between Canadian Solar and Recurrent Energy
The acquisition should allow Canadian Solar to bolster its existing market share in North America and expand its share to areas that didn't generate strong sales or that the company didn't cover. Recurrent Energy provides clean electricity in California, Arizona, Ontario, and Spain. With 44%of project revenues coming from the United States, this company will be key in allowing Canadian Solar to solidify its position and expand its reach.
Recurrent is a well-established firm in the downstream market, so Canadian Solar's acquisition offers more opportunity for growth of its total solutions business. Specializing in EPC[1. Engineering, procurement, and construction] and O&M[2. Operating and maintenance] services, Recurrent Energy should strengthen certain aspects of Canadian Solar's total solutions business. EPC and O&M services make up a significant part of the company's existing downstream business.
Financing from foreign banks such as Credit Suisse is another source of value that Recurrent Energy brings to Canadian Solar. Previously, Canadian Solar depended highly on Chinese banks to extend existing loans and provide extra credit exposure.
The sum of two parts
After the acquisition, Canadian Solar's solar project pipeline almost doubled from under 5 GW to 9 GW of energy. The company's late-stage pipeline increased from 1.4 GW to 2.4 GW. All projects in the company's portfolio are estimated to come online in 2016, which is prior to the expiry of the investment tax credit (or ITC) imposed on utility companies.