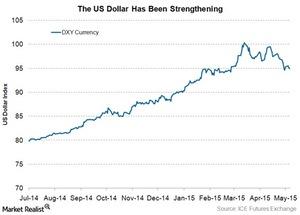 Stronger Dollar Hampers US Trade Balance; SPY Falls 1.15%
By Surbhi Jain

Updated
Currency wars have fueled the dollar appreciation
The dollar has been appreciating on account of the currency wars and improving economic fundamentals in the United States. The U.S. Dollar Index (DXY), which is a measure of the value of the US dollar relative to a basket of foreign currencies, is up about 18.85% since July 2014. The index, which stood at 79.82 on July 1, 2014, now stands at 95.08 as of May 5, 2015.
The PowerShares DB US Dollar Index Bullish Fund (UUP), which tracks the greenback, has gained about 4.42% so far this year and about 18.23% over the past one year.
Article continues below advertisement
Rising dollar has impacted export earnings of US multinationals
No US economic sector is untouched by the currency wars. The benchmark-tracking SPDR S&P 500 ETF (SPY) was down 1.15% on May 5. The SPY has returned about 1.63% so far this year. The rising dollar has strongly impacted export earnings of multinational corporations in the United States that have a good percentage of revenues accruing outside the United States. These include companies such as Mallinckrodt (MNK), Estee Lauder (EL), and Netflix (NFLX), which are vulnerable to a rising dollar. MNK, EL, and NFLX earn about 25%, 58%, and 24% of their revenues, respectively, from foreign countries.
Consequently, exports in the United States have been hurt. Imports have surged on the back of depreciating foreign currencies, making imported goods cheaper in US markets. The US trade balance report released by the U.S. Census Bureau on May 5 further validates this point.
US trade deficit widens to $51.4 billion in March
According to the US trade balance report, trade deficit in the United States widened to $51.37 billion in March against an expected $41.7 billion. This was a 43.1% rise over the February figure. March reflects the largest monthly widening since 1996.
The stronger dollar has been hurting exports. The West Coast port labor dispute has led to a record level of non-petroleum imports flowing into the United States. The trade balance, which measures the value of net foreign trade, or imports minus exports, has thus widened to $51.37 billion.
Stay updated on our analysis of the macro environment of the United States (SPY) (IVV), the Eurozone, and the world (ACWI) by visiting our Global Equity ETFs page on the Market Realist website.