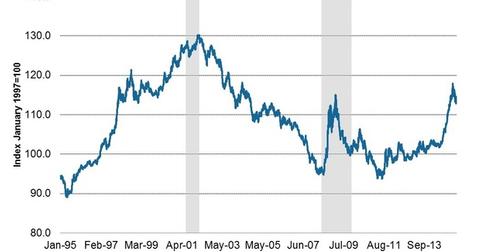 Put These Key Food Price Trends in Your Shopping Cart
By Phalguni Soni

Updated
Food price deflation – causes and effects
As mentioned earlier in the series, global food (XLP) prices were at almost five-year lows in April. The United States also experienced food price deflation in March and April. Falling food prices could further escalate the likelihood of competitive price wars among US supermarkets, as we saw in the previous part of this series.
Article continues below advertisement
Dairy prices
Dairy prices, which declined the most in April by 0.8% month-over-month, could continue to be pressured by changing exports to China. For the past couple of years, Chinese authorities have cracked down hard on foreign companies exporting milk and associated products to China. These companies include Danone (DANOY) and Nestlé (NSRGY). One of these companies, Fonterra, was forced to recall tainted batches of milk powder in 2013. There's also a milk supply glut in the US market.
A stronger dollar
The US dollar's appreciation compared to almost every major currency in the world isn't helping the downward trend in food prices. A stronger dollar will continue to be a drag on US food prices as we wait for the anticipated rate hike by the Fed, which is expected later this year. This would create downward pressure on US exports. It could also create oversupply pressures in the United States in major export categories like fruits, soybeans, pork, and more.
Supply shortage
There are a few factors, however, that may provide price support, at least in the United States. Improving employment and income levels could spur higher spending at the supermarket. Organic and premium food stores could see both higher traffic and sales. They're also less likely to revise prices in response to competitive and deflationary pressures. Major players in this segment include Whole Foods Market (WFM), Kroger's (KR) Harris Teeter supermarkets, and The Food Market (TFM).
For more sector research and analysis, visit our Consumer and Retail page.