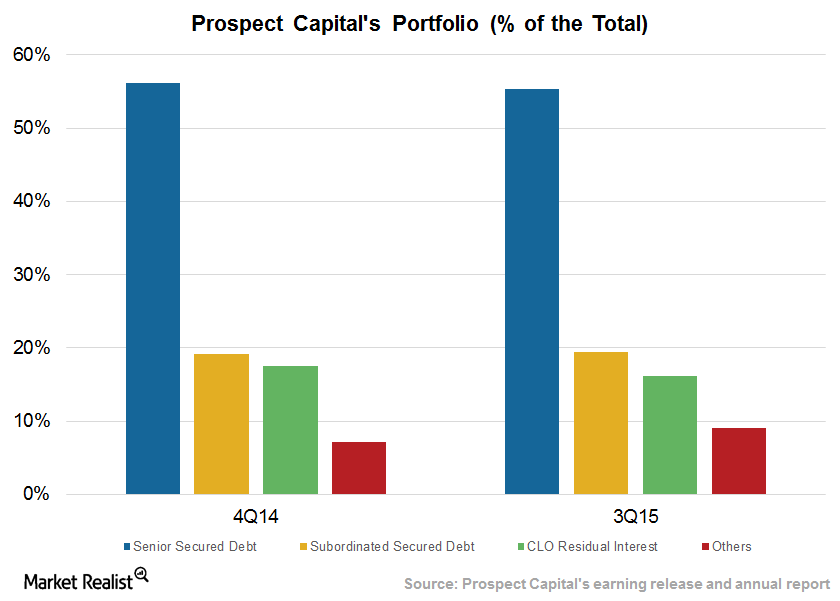 Prospect Capital's Selection Is Key to Risk Return Profile
By Robert Karr

Dec. 4 2020, Updated 10:53 a.m. ET
Origination through innovation
Prospect Capital (PSEC) announced on May 6 that it has completed one new investment and several follow-on investments totaling $219 million in 3Q15, which ended on March 31, 2015. Its sales, repayments, and scheduled amortization in 3Q15 were $108 million, resulting in investments net of repayments of $111 million.
Prospect Capital launched a call center initiative in March 2013 in order to attract clients. However, this led to some missed opportunities. The majority of its portfolio investments consists of agented middle market loans. The company has originated, selected, negotiated, structured, and closed these transactions.
Article continues below advertisement
Follow-on investments dominate
Prospect Capital sees the risk adjusted reward to be superior for agented and self-originated opportunities in the current environment when compared to the syndicated market. As a result, it's targeting its major resources toward sourcing agented and self-originated deals.
For 3Q15, Prospect's originations consisted of 46% third-party sponsor deals, 43% online lending, 7% real estate, 2% operating buyouts, 1% collateralized loan obligations structured credit, and 1% syndicated debt.
Prospect's major investments in 3Q15 include the following:
$13.9 million follow-on investment in National Property REIT Corp. (or NPRC)
$20.3 million follow-on first lien senior secured debt investment in PrimeSport, Inc.
$74.7 million follow-on first lien senior secured debt investment in Instant Web, Inc.
Nine follow-on investments in NPRC totaling $60 million
Throughout the quarter, Prospect's wholly owned subsidiary Prospect Small Business Lending, LLC (or PSBL) purchased $28.2 million of small business whole loans.
Among its peers in investment management, Ares Capital Corporation (ARCC) made a new investment commitment worth $500 million, and BlackRock Capital Investment's (BKCC) commitments totaled $46.3 million. Apollo Investment Corporation (AINV) is yet to announce its quarterly results. Together, these companies form 5.87% of the PowerShares Global Listed Private Equity Portfolio (PSP).