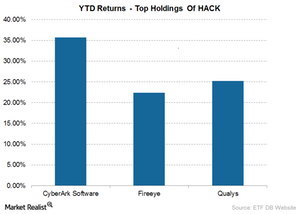 How Does the XLK ETF Compare to the HACK ETF?
By Adam Rogers

Updated
Portfolio analysis: XLK versus HACK
The Technology Select Sector ETF (XLK) and the ISE Cyber Security ETF (HACK) are two ETFs that provide exposure in the technology space, although their portfolios consist of firms in different segments of the IT sector. There is less than 5% overlap between the stocks listed in XLK and HACK.
The assets under management for XLK are over $13 billion, while the figure for HACK stands at $655 million. The HACK ETF has an expense ratio of 0.75% compared to an expense ratio of 0.15% for XLK, which shows that the cost for HACK is steep compared to that of XLK.
 YTD returns for top holdings in HACK and XLK
The top holdings of HACK include CyberArk Software (CYBR), FireEye, and Qualys (QLYS). These stocks have given significant YTD (year-to-date) returns of 35.71%, 22.42%, and 25.22%, respectively.
In contrast, the top holdings of the XLK ETF include Apple (AAPL), Microsoft (MSFT), and Verizon Communications, which have given YTD returns of 14.42%, 2.50%, and 9.57%, respectively.
HACK is a high beta ETF
In comparison to XLK, HACK is a high beta ETF, which means that it is more volatile than the stock market in general. This is attributed to the fact that HACK consists of small-cap and new companies in the cyber security sector. While the risks are significantly higher to invest in HACK, the potential for high returns also increases significantly. This can be seen in the returns generated by HACK since its inception, which is nearly three times that of XLK and SPY.
On the other hand, the XLK ETF is a low beta ETF, as it consists generally of large-cap stocks, which makes it a more stable and low-growth, low-risk fund.
Concentration risk involved with HACK
The HACK ETF has a concentrated exposure to a niche cyber security space, and the top ten holdings account for almost 48% of the total portfolio.
We can thus see that the risk and potential returns involved with investing in HACK are way higher than those involved with investing in XLK.