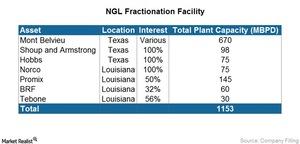 Why NGL Fractionation Is an Important Subsegment for EPD
By Victor Cheng

Updated
What is fractionation?
Fractionation is the process through which mixed natural resources are separated into pure form that can be taken up by the end users. NGL fractionation separates mixed NGL streams into purity NGL products like ethane and propane. EPD owns or has interest in 15 NGL fractionators, located in Texas and Louisiana.
Article continues below advertisement
How the NGL segment earns revenue
The NGL segment earns revenue through contracts that are either fee-based, commodity-based, or a combination of both. Under fee-based contracts, the company receives a fixed fee for processing or transporting natural resources. The transportation tariff is regulated by governmental agencies, including the Federal Energy Regulatory Commission.
On the other hand, commodity-based contracts include:
Keep whole and margin-band contracts: Under this type of contract MLPs take ownership of mixed NGLs extracted from the producer's natural gas stream and replace it with the equivalent quantity of natural gas.
Percent-of-liquids contracts: Under this type of contract MLPs take ownership of a portion of the mixed NGLs in lieu of processing fees.
Percent-of-proceeds contracts: Under this type of contract MLPs share the proceeds generated from the sale of mixed NGLs in lieu of processing fees.
NGL fractionation volume grew by 13% from 2013 to 2014. Fractionation volumes have been growing steadily since 2010.
Effect of seasonality on revenue
NGL pipeline transportation volumes are generally higher from October through March due to higher demand for propane for residential heating purposes and normal butane for blending into gasoline. Storage facilities usually experience an increase in demand for storage services during the spring and summer months due to increased feedstock storage requirements for gasoline production. Natural gas processing and NGL fractionation operations have little seasonal effect.
Key ETFs and stocks
Some of the MLPs that operate under the same type of contracts as discussed above are Western Gas Partners (WES), Williams Partners (WPZ), AmeriGas Partners (APU), NGL Energy Partners (NGL), and Boardwalk Pipeline Partners (BWP). These MLPs have a combined weight of 10.33% in the Alerian MLP ETF (AMLP).
In the next part of the series we'll discuss the operating margins of EPD's NGL Pipelines & Services segment and assess how it has fared over the years.