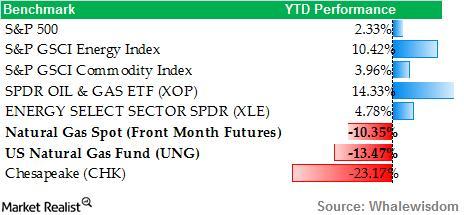 Does It Make Sense to Add Chesapeake Energy to a Portfolio?
By Patricia Garner

Updated
Adding Chesapeake Energy to a portfolio
From a portfolio management perspective, Balyasny's allocation into Chesapeake Energy (CHK) is a bet that Chesapeake Energy will outperform the following list of benchmarks that can be associated with measuring its performance.
Clearly, its stock price diverged considerably from the commodity it produces. As a result, there are some underlying issues within management's strategy that are creating a significant drag on performance.
Article continues below advertisement
Performance of Chesapeake Energy versus the benchmark
Chesapeake Energy has a natural gas production mix of 71%. Of the components of the SPDR Oil & Gas ETF (XOP) that have a natural gas production mix above 25%, the average YTD (year-to-date) performance has been 13.10%—Chesapeake Energy is included in that sample. However, Chesapeake Energy's performance has been -23%!
Although it's true that many of the names in that sample—like California Resource (CRC) and Laredo Petroleum (LPI)—have market caps below $4 billion. The top 20 holdings within the ETF, as ranked by market cap, had an average YTD return of 11.1%. Antero Resources (AR) has the smallest market cap at $11.2 billion. This still doesn't fare favorably compared to Chesapeake Energy.
Balyasny's new position doesn't align itself with the preferred method of initiating positions on heavily beaten down stocks. Chesapeake Energy lost 22% in 2014. It was hardly the worst energy company. Given that it underperformed all of the previously mentioned benchmarks, Balyasny might be betting on something a little bigger. Is it just a piggy back ride on activist investor Carl Icahn's position?
For the latest updates, visit Market Realist's 13Fs (Top Fund Holdings) page.