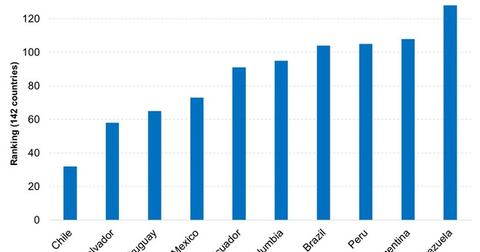 Does Latin America's Weak Infrastructure Present an Opportunity?
By BlackRock

Updated
Building infrastructure key for Latin America
Infrastructure investment, frequently stemming from private international sources, can offer an avenue for economic growth through increased efficiency and local employment, while at the same time suits portfolio allocation by long-term international investors such as pension funds and sovereign wealth funds. It is for this reason that infrastructure will be a focus topic at the World Economic Forum on Latin America this week.
Article continues below advertisement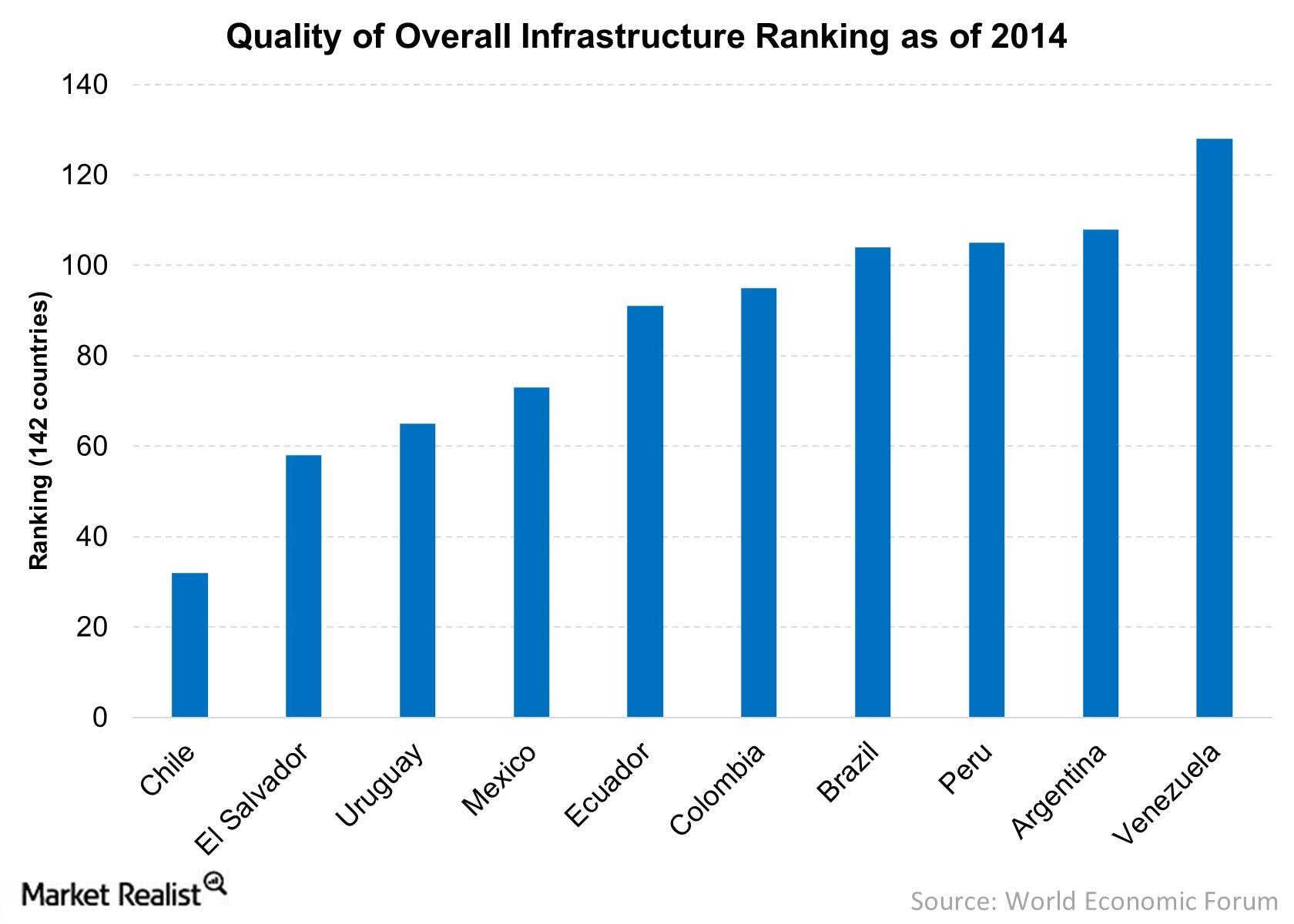 Market Realist: Infrastructure remains weak in Latin America. Investment in infrastructure could support growth and employment.
The graph above shows how Latin American countries rank in terms of overall infrastructure quality, according to the "Global Competitiveness Report" by the World Economic Forum.
It's clear that most Latin American countries lag behind in terms of infrastructure development, even when compared to other emerging markets (EEM) (VWO). Brazil (EWZ), the biggest economy in Latin America, is ranked 104th, which is appalling given the size of the economy. Peru, Argentina, and Venezuela lag further behind. Mexico (EWW) is ranked 73rd.
Chile (ECH) has by far the best overall infrastructure in Latin America (ILF) and is ranked 32nd in the report.
Article continues below advertisement
The region's underdeveloped infrastructure places it at a disadvantage compared to other emerging markets. Poor infrastructure has negative implications for its competitiveness in areas such as foreign direct investment, productivity, and trade. Latin America has one of the lowest proportions of paved roads within its total road network of any other region.
Reforms aimed at improving infrastructure in the region could support growth as well as provide employment, which would help reduce rampant poverty.
Poor infrastructure could be a deterrent from an investment standpoint. Yet, it also represents an opportunity, as it could be an avenue for growth. There's plenty of untapped potential in Latin America, particularly given the size of the region and the relative age of the population. If governments there spend wisely, the prospects for the region appear to be bright.