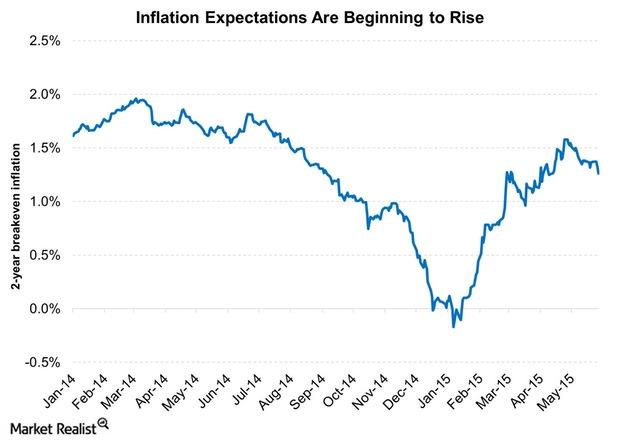 Inflation Is on the Horizon despite Low Headline Figures
By Jeffrey Rosenberg

Dec. 4 2020, Updated 10:53 a.m. ET
The inflation factor
What accounts for the underperformance of longer maturity bonds in April? One reason is a recovery in inflation expectations. "Breakeven" inflation expectations refer to the market-based measures of inflation extracted from the prices of Treasury Inflation-Protected Securities (or TIPS). These expectations have closely followed the price of oil as the latter contributes to the headline inflation that determines the inflation compensation in TIPS. As oil prices bottomed in March and moved higher in April, these inflation expectations correspondingly moved higher.
Article continues below advertisement
Market Realist: Inflation is on the horizon.
Benchmark inflation, shown in the graph above, is the inflation rate that the market expects in the US over the next two years.
The benchmark inflation rate started dipping in mid-2014 and bottomed out in December 2014, around the same time when oil (USO) hit its trough. It's currently at ~1.5%, much higher than 0.1%, where it stood in December 2014. Higher inflation expectations make inflation-protected securities like TIPS (TIP) very attractive.
TIPS give investors a hedge against inflation, like gold (IAU) and other commodities. This protection, however, comes at the cost of lower coupons. The yield on TIPS will always be lower than that on Treasuries (TLT) with the same maturities, unless inflation turns negative. The difference in the two yields indicates expected inflation.
While inflation expectations are increasing, headline CPI (consumer price index) inflation remains rooted to the 0% mark.
Also, producer prices and import prices have been subdued. Core CPI inflation, meanwhile, which strips out volatile items including energy and food, is steady at 1.8%.
Nevertheless, growth rates could pick up in 2Q15, albeit mildly, in the US (SPY). Economic numbers have been a mixed bag in 2Q15 so far, with the jobs report impressing, and retail sales disappointing.