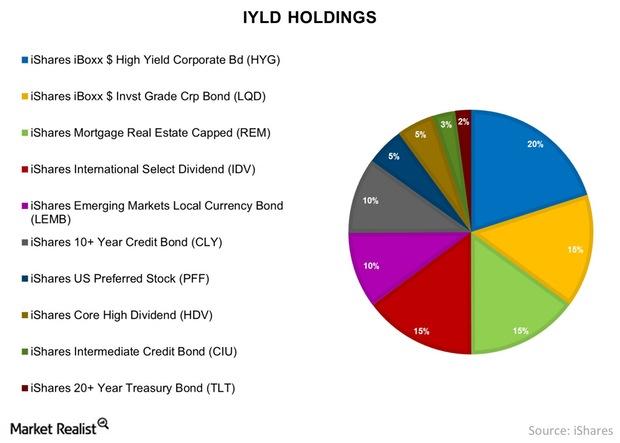 Find Out Which ETF Invests in Other ETFs
By Matt Tucker, CFA

May. 28 2015, Updated 2:41 p.m. ET
"Diversification" is more than just an investment buzzword; it's a powerful tool that can help reduce portfolio risk. Matt Tucker shares an example to illustrate this concept.
In a recent post, I talked about how some income-seeking investors are using the strategy of investing in multiple asset classes in order to find yield.  As an example, I referred to the iShares Multi-Asset Income ETF (IYLD), which seeks to deliver yield and balance risk through diversified asset allocation.
Article continues below advertisement
Market Realist – The iShares Multi-Asset Income ETF invests in other ETFs.
The pie chart above shows the holdings of the iShares Multi-Asset Income ETF (IYLD). As you can see, all the holdings are ETFs, unlike regular ETFs (exchange-traded funds), which usually invest in stocks or bonds. What is also interesting is the fact that the ETF holds both stock, bond, and alternative investment ETFs, which gives it a diversified feel.
The main aim of IYLD is to deliver high current income, while also providing diversification benefits and maintaining long-term capital appreciation. The iShares iBoxx $ High Yield Corporate Bond Fund (HYG) currently has the highest weight in IYLD, with 20.1% of total holdings.
The second highest holding of IYLD is the iShares iBoxx $ Investment Grade Corporate Bond ETF (LQD). IYLD's LQD holdings make up 15% of its total holdings. Its iShares 20+ Year Treasury Bond ETF (TLT) holdings make up only 2.0% though.
IYLD also invests in US (HDV) and international high dividend (IDV) ETFs, among others, to the tune of 5% and 14.9%, respectively, of its total holdings, as the graph shows.
Read on to find out how IYLD balances its risks and its main advantages.