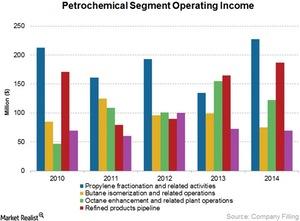 How EPD Increased Operating Income in Its Petrochemical Segment
By Victor Cheng

Updated
How operating income fared
Enterprise Product Partners' (EPD) Petrochemical segment operating income has been increasing since 2010 due to higher propylene sales margins, higher propylene sales volumes, lower maintenance expenses, and higher transportation tariffs.
Article continues below advertisement
How Offshore Pipelines & Services segment earns revenue
Propylene fractionation, butane isomerization, and deisobutanizer facilities generate revenue through fee-based arrangements, which typically include a base processing fee subject to adjustment for changes in power, fuel, and labor costs, all of which are the primary costs of propylene fractionation and butane isomerisation.
Revenues from petrochemical pipeline transportation contracts are primarily based on a fixed fee per volume transported, typically measured in gallons or pounds, multiplied by the volume delivered. Pipelines transporting refined products generate revenues through contracts and tariffs as customers are billed a fixed fee per barrel of liquids transported multiplied by the volume delivered. The fees charged under these arrangements are either contractual or regulated by governmental agencies.
The above graph shows that refined product transportation throughput declined marginally from 2010 to 2013. Throughput showed improvement in 2014 due to increased demand for refined products. The petrochemical and NGL transportation segment stayed flat during the period.
Effect of seasonality on revenue
The propylene fractionation business exhibits little seasonality. Isomerisation operations experience slightly higher levels of demand in the spring and summer months due to increased demand for isobutane-based fuel additives used in the production of gasoline. Likewise, octane additive prices are typically stronger from April to September of each year when gasoline demand increases in connection with the summer driving season.
Article continues below advertisement
Refined product pipelines and related activities exhibit seasonality based on the mix of products delivered, the weather, and economic conditions in the geographic areas being served. The marine transportation business exhibits some seasonal variation. Demand for gasoline is generally stronger in the spring and summer months due to the summer driving season.
Key ETFs and stocks
The refined product segment of Williams Partners (WPZ) and Enable Midstream Partners (ENBL) showed decreased growth in the period discussed above. Western Gas Partners (WES) and EnLink Midstream Partners (ENLK) are some of the other MLPs like Enterprise Product Partners (EPD) that also operate in the refined product segment. These MLPs have a combined weight of 26.15% in the Alerian MLP ETF (AMLP).
In the next part of the series, we'll discuss EPD's total capital spending.