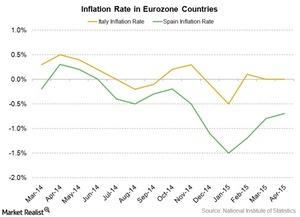 ECB's Monetary Stimulus Package Benefits Italy and Spain
By Surbhi Jain

May. 1 2015, Published 10:03 a.m. ET
ECB stimulus working for the Eurozone
The ECB's (European Central Bank) monetary stimulus package seems to be working well for the Eurozone economies. Inflation in Italy remained anchored at 0% after it climbed out of deflation last month, while Spain's inflation rate also moved up 0.1% in April.
Consumer prices in the Eurozone are improving. This is good news for European consumer sector firms like Carnival (CUK), Diageo (DEO), British American Tobacco (BTI), InterContinental Hotels (IHG), Vodafone (VOD), and Unilever (UL). The SPDR EURO STOXX 50 ETF (FEZ) gained 0.25%, while the iShares MSCI EMU (EZU) was up 0.10% on the April 30 close.
Article continues below advertisement
Italy inflation anchored at 0%
According to the National Institute of Statistics' preliminary inflation report that came out on April 30, inflation in Italy (EWI) remains anchored at 0%, after it officially climbed out of the EU's (European Union) deflationary territory in March. The EU's harmonized inflation rate in Italy was recorded at 0% on a YoY (year-over-year) basis. It was in line with expectations. Prices in Italy rose at a 0.5% rate on a month-over-month basis in March.
Negative inflation continues in Spain—rate up by 0.01% in April
Spain continues to report negative inflation figures, although April's reading came in slightly better than the figures in March. The National Institute of Statistics' report came out on April 30. It reported the preliminary inflation figures for the Eurozone economies for April. It also covered Spain (EWP).
The EU's harmonized inflation rate for April came in at -0.7%. Spain's figures were also in line with median expectations of -0.7%. The inflation readings are moving towards positive territory. In March, the inflation reading was recorded at -0.8. The rate moved from 1.5% in January to -1.2% in February. The rate was -0.8% in March and -0.7% in April.
Spain also reported GDP (gross domestic product) numbers that were above expectations for 1Q15. The GDP in Spain recorded a 0.9% growth rate in 1Q15, against an expected 0.8%. On a YoY basis, the GDP grew at a 2.6% rate over the previous year.
There were also some unemployment releases in the Eurozone.