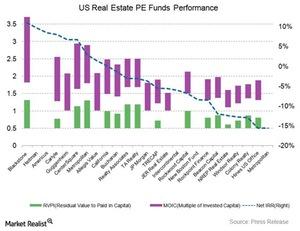 How Direct Real Estate Investments Compare to PE Investments
By Arthur Penn

Dec. 4 2020, Updated 10:52 a.m. ET
Asset allocation of major PE funds in real estate
Various surveys from 2015 suggest that approximately 45% of PE funds active in real estate currently invest less than 5% of their total assets in the asset class. All PE funds globally have a target allocation of around 5% or more in real estate. Of these, around 43% have a target allocation of 10% or more. Thus, there is potential for significant inflows into real estate, as these sovereign wealth funds invest to move towards their strategic targets as the investor seeks a more globally diversified portfolio.
Article continues below advertisement
Key metrics to measure real estate PE funds' performance
There are several common performance metrics to measure PE funds:
Residual value to paid in capital (or RVPI): A return multiple that measures the net asset value (or NAV) of a privative equity fund relative to the amount of capital provided by the limited partners (or LP) to the fund. RVPI reflects the current value of all remaining holdings within the fund compared to the total amount contributed to date by the investors.
Multiple on invested capital (or MOIC): If you invest $1,000,000 and return $10,000,000 in ten years, your MOIC is 10x. If you invest $1,000,000 and return $10,000,000 in three years your MOIC is still 10x.
Internal rate of return (or IRR): This metric looks at your financial return in respect to time. Investors think about IRR, because when they invest $1,000,000 with a ten-year lock up, they are also investing the opportunity cost of everything they could have been doing with that money during those ten years. Sometimes MOIC will matter more because the chances of finding another high IRR opportunity are low.
As the chart above shows, Blackstone (BX), Centre Square, and Metropolitan are the top-performing real estate PE funds across all parameters.
Some of the liquid real estate ETFs and stocks are CBL & Associates Properties (CBL), the iShares US Real Estate ETF (IYR), Toll Brothers (TOL), Retail Opportunity Investments (ROIC), and Forest City Enterprises (FCE.A).