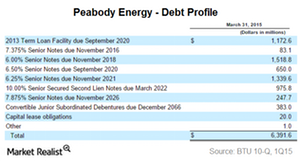 Peabody Energy Able to Withstand Short-Term Pricing Pressures
By Mike Sonnenberg

Updated
Debt profile
As of March 31, 2015, Peabody Energy (BTU) had ~$6.4 billion of debt on its books. Much of this debt was added in 2011 to fund acquisitions made when times were good. The debt maturities are fairly spread out, as seen in the chart below, with no major debt maturing until 2018.
While the coupon rates on the debt range from 4.75% to 10%, the yields range from 9.8% to 19.6%. The yields (HYG) on the notes issued by Peabody Energy are lower than those issued by its peers (KOL) Walter Energy (WLT) and Alpha Natural Resources (ANR). Why? The company has better product mix, lower-cost mines, and most importantly, higher liquidity than others in the sector.
Article continues below advertisement
Comfortable liquidity
As of March 31, the company had cash and cash equivalents of $637.1 million and available credit lines of $1.65 billion. Its total available liquidity as of that day was $2.2 billion. With no immediate, large debt maturities, the company can stay afloat with available liquidity for the next few quarters, even if it burns cash.
That said, a large maturity of $1.5 billion is due in 2018. If the company's cash flow doesn't improve considerably in the next few quarters, the company may have to sell assets or refinance the debt. With interest rates on the rise, the company will most likely have to refinance the debt at a higher rate, which will pressure cash flow.
Cash-generating operations
Peabody Energy's operations generated $5.2 million in 1Q15, unlike its peers that have been burning cash for the last few quarters. After accounting for $25.1 million in capital expenditures, the company burned $19.9 million in free cash. The company needs to generate significantly higher free cash if it intends to meet the debt obligation in 2018 without refinancing or selling off assets.