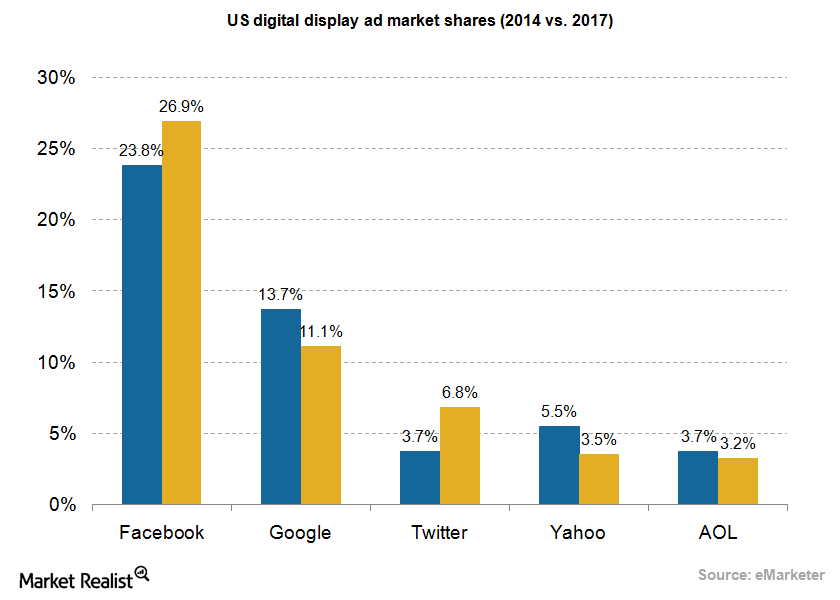 Verizon Plus AOL Equals Competition for Facebook and Google
By Puneet Sikka

Nov. 20 2020, Updated 5:11 p.m. ET
Facebook and Google have been investing to improve ad technologies
In the earlier parts of this series, we looked at Verizon's (VZ) acquisition of AOL (AOL) and how it will help Verizon leverage the fast-growing video ad market. We also saw how AOL has been investing its resources to develop its ad technology.
There has also been a lot of development going on in other parts of the ad technology market. Facebook (FB) and Google (GOOG) have invested a lot to improve their ad technologies.
Article continues below advertisement
In 2013, Facebook relaunched Atlas, the ad server it bought from Microsoft (MSFT). Facebook claims that Atlas can help advertisers improve online campaign measurement and achieve a better return on investments by providing relevant ads to users. Facebook also claims that since it knows people's real identities, it can track users on devices such as tablets, smartphones, and PCs (personal computers).
Facebook and Google have also started to focus more on developing mobile ad technologies. Facebook calls this mobile ad technology App Links technology, which it uses to link mobile apps with ads. Facebook says these ads are a strong driver of its advertising business growth.
Google is also seizing this opportunity. It's now enhancing its mobile ad network by indexing mobile apps just as it does web content.
AOL is fifth in display ad market
With the help of their mobile ad technologies, Facebook and Google have moved far ahead of AOL in the display ad market. According to a report from eMarketer, Facebook will continue to gain share in the US digital display market in the future. AOL is currently ranked fifth in this market.
As the above chart shows, Facebook will likely manage to increase its share at Google's expense. Meanwhile, Twitter (TWTR) will gain share at a rapid rate, and Yahoo! (YHOO) will lose share quite rapidly. After acquiring AOL, Verizon could possibly use AOL's resources to strengthen its position in this market.
To gain diversified exposure to Facebook, you can invest in the PowerShares QQQ Trust, Series 1 (QQQ). QQQ invests about 3.7% of its holdings in Facebook.