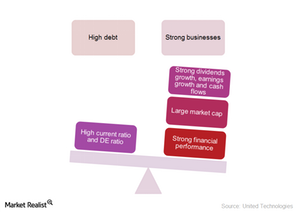 UTC's Current Financial Position and Valuation
By Ally Schmidt

Apr. 9 2015, Updated 6:05 p.m. ET
Article continues below advertisement
Strong business
As we've seen in previous articles in this series, United Technologies Corporation (UTX) has a very strong presence in its aerospace and industrial businesses. The company has been focused on improving productivity by implementing restructuring and cost reductions and by improving synergies. The company has a strong order backlog and strong R&D (research and development), which will help it grow in the future.
Continuous growth in business
UTC has seen continuous growth in its business in terms of revenue growth as well as better profits and margins. This growth has been driven by strong performance in all segments. The company ended 2014 with revenues of $65 billion and profits of $6.2 billion.
Article continues below advertisement
Strong earnings and dividend growth
United Technologies Corporation (UTX) is one of the highest dividend payers in the market. It has been paying and growing dividends for more than a decade. It has also generated positive earnings per share for the last ten years.
Sufficient cash flow generation
The company's cash flow stands at 90%, which is lower than its net income. This is primarily due to the company's use of cash in funding acquisitions.
High debt
UTC has high debt levels due to its continuous funding of various acquisitions. It has a number of long-term obligations. The company's debt-to-equity ratio stands at 1.92, which is very high. Its current ratio is 1.3, which is also high. But UTC has a low quick ratio of 0.86, indicating that it has sufficient liquidity to fulfill current obligations.
Overall, UTC's current financial position is strong. The only concern is UTC's high debt levels.
Other companies in the aerospace and defense segment are Honeywell (HON), General Dynamics (GD), Exelis (XLS), and Northrop Grumman (NOC). Except for Exelis, these companies together form ~5% of the iShares Select Dividend ETF (DVY).