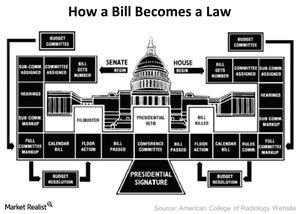 US President Obama Stirs Up the Minimum Wage Debate
By Adam Jones

Apr. 10 2015, Updated 2:39 p.m. ET
Stirring up the subject of minimum wage
Minimum wage has been a topic of discussion for a while. It has been over five years since the last wage hike. In July 2009, minimum federal wage was raised to $7.25. In his recent State of the Union address, President Barack Obama said, "to everyone in this Congress who still refuses to raise the minimum wage, I say this:  If you truly believe you could work full-time and support a family on less than $15,000 a year, try it.  If not, vote to give millions of the hardest-working people in America a raise."
In order to increase the federal minimum wage, the Congress has to first pass a bill, which is then signed by the President into law.
Article continues below advertisement
A bill proposing the minimum wage increase
Bill S.460: Fair Minimum Wage Act of 2013, was introduced in the Senate to the 113th United States Congress on March 5, 2013. These are the main highlights of the proposed bill:
$8.20 per hour from the first day of the third month of the bill's enactment
$9.15 per hour after one year from the above first day
$10.10 per hour after two years from the first day in point 1 above
an increase as determined by the Secretary in the third year and in the subsequent years thereafter
As of the date of writing, the status of this bill remains "Introduced in Senate."
President's executive order
In the State of the Union address of 2014, President Obama backed the wage increase to $10.10 and said he'd issue an executive order to ensure federally funded employees were paid a fair wage of at least $10.10. The president signed executive order number 13658 to this effect on February 12, 2014.
Meanwhile, a large number of employees that are not federally funded are left with a minimum wage of $7.25. This includes restaurants such as Yum! Brands (YUM), Bloomin' Brands (BLMN), McDonald's (MCD), Domino's (DPZ), and others included in the consumer discretionary sector (XLY)(RXI). XLY invests 10% of its holdings in restaurant stocks.
In the next part of this series, we'll look at some of the characteristics of minimum wage workers in the US.