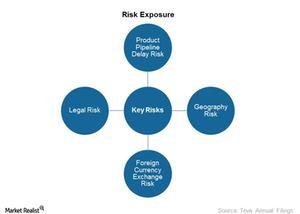 Teva's Risk Exposure in a Dynamic Environment
By Nicole Sario

Updated
Key risks
Teva (TEVA) operates in a dynamic environment. This involves a number of risks associated with the general market. These risks are in addition to those typically faced by the generic pharmaceutical industry. They could have a material adverse effect on the company's operating and financial results.
Article continues below advertisement
Geography risk
Teva's business is widely diversified across geographies. More than 50% of its revenues come from the United States. This high concentration in the US market exposes Teva to a geography risk. This makes the company vulnerable to demographic, economic, and regulatory changes.
Foreign currency exchange risk
In 2014, ~48% of Teva's revenues came from international sales outside the United States. Because the company is operational worldwide, foreign exchange fluctuations can have an adverse impact on the company's costs. This, in turn, can impact the profitability of the company. In order to limit this risk, Teva uses derivative financial instruments and hedging techniques for major foreign currencies in which it operates.
Article continues below advertisement
Product risk
Teva is exposed to product risks such as Copaxone, which contributes significantly to the company's profitability. The company's MS (multiple sclerosis) profitability was $3.0 billion, $3.3 billion, and $3.2 billion in 2012, 2013, and 2014, respectively.
Copaxone is expected to face competition since its patent expired in 2014, resulting in a decrease in profitability. However, to curb this risk, the company has started to switch patients to its new version of Copaxone.
Product pipeline delay risk
Teva is exposed to the risk of delays in the product pipeline. This can result either from a delay in product development or a delay in receiving regulatory approval. The company's revenue stream is dependent on the commercialization of new products. Any of these delays could have an adverse impact on its operating results.
Teva's growth can be monetized through ETFs such as the iShares U.S. Healthcare ETF (IYH). Generic and specialty companies such as Actavis (ACT), Hospira (HSP), Mallinckrodt Plc (MNK), Impax (IPXL), and Perrigo (PRGO) make up ~5.38% of IYH's total holdings.