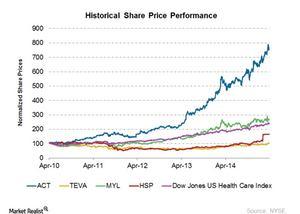 Teva: Top Generics Pharmaceutical Company Worldwide
By Nicole Sario

Updated
Company overview
Teva Pharmaceutical Industries Ltd. (TEVA) is a leader in the global generics pharmaceutical industry on the basis of revenues of ~$20 billion in 2014. Teva is followed by Actavis at ~$13 billion, Sandoz at ~$9.6 billion, and Mylan at ~$7 billion. Teva develops, produces, and markets generics, or unbranded and branded generics, and specialty products.
The company also produces active pharmaceutical ingredients (or APIs). In addition, the company sells branded over-the-counter (or OTC) medicines through a joint venture known as PGT with Procter & Gamble (or P&G), who owns 51% of the venture.
Article continues below advertisement
Share price
The chart above compares the share price performance of Teva with its peers and the Dow Jones U.S. Health Care Index. Teva's share price has consistently declined over the last four years. This was due to the envisaged negative impact on revenues from loss of exclusivity of Copaxone, a flagship drug with significant contribution to revenues of ~21% in 2014.
After 2014, the share price started to gain momentum due to the appointment of a new chief executive officer and the acquisition of Auspex Pharmaceuticals, a biopharmaceutical company.
On an annualized basis, Teva delivered negative returns of 0.39% from April 2010 to March 30, 2015. In the same period, Actavis (ACT), Mylan (MYL), and Hospira (HSP) delivered annual returns of ~16%, ~20%, and ~9%, respectively. These returns can be monetized through investing in ETFs such as the iShares U.S. Healthcare ETF (IYH).
Key facts
Teva is headquartered in Israel. Under the Israeli Law for the Encouragement of Capital Investments, the company gets a tax benefit under Approved Enterprise status . The company is operational in 60 countries worldwide.
Teva is listed on the New York Stock Exchange. Its ticker is TEVA. Its fiscal year ends on December 31. As of March 30, 2015, the market capitalization was $59.3 billion. In fiscal 2014, the company generated revenue of $20,272 million and had 43,000 employees. The company has 40 finished dosage manufacturing units in 25 countries. Teva has a portfolio of more than 1,000 molecules.