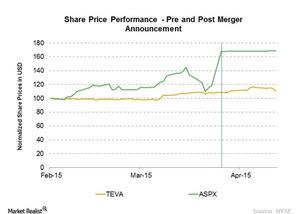 Teva Earnings Preview: Auspex Acquisition to Support Growth
By Nicole Sario

Updated
Acquisition rationale
On March 30, 2015, Teva Pharmaceutical Industries (TEVA) announced its agreement to acquire Auspex Pharmaceuticals (ASPX) for $3.2 billion in enterprise value, a 42.4% premium to the company's closing share price of $70.91 on March 27, 2015. This step will support the company's near- and mid-term growth.
Teva share price moved up a marginal ~1% and Auspex stock rose by a significant ~41.5% following merger announcement. The Auspex surge reflects a positive market sentiment about the deal. The acquisition will give Auspex a strong growth platform. Auspex should be able to use Teva's expertise and experience to deliver great value to patients with novel therapies. Meanwhile, an uptick in Teva stock means that it isn't paying too high a premium to acquire Auspex.
The Auspex acquisition is expected to close in mid-2015. Teva will offer $101 per share for all outstanding shares of Auspex. The deal is debt-free and will be funded through existing cash on hand.
Mylan (MYL), Teva's direct competitor, offered to buy out Perrigo Company (PRGO) on April 8, 2015.
Article continues below advertisement
Key products and pipeline
In its patent portfolio, Auspex has 60 molecules that focus on neurodegenerative diseases. SD-809, or Austedo, is its lead product for Huntington's disease. In the US, ~30,000 people are affected by Huntington's disease. Its product pipeline includes the following:
SD-809 – treats tardive dyskinesia and is currently in Phase 3 development
SD-809 – treats Tourette syndrome and is in Phase 1 development
SD-560, or deuterated pirfenidone – currently in development to treat idiopathic pulmonary fibrosis
Financial benefits
This transaction will enhance Teva's mid- to long-term revenue and earnings growth. It will also add product diversity to its specialty segment. In the absence of any product launch, currently Auspex doesn't generate revenues.
SD-809, or Austedo, is expected to get FDA (U.S. Federal Drug Administration) approval and to be launched in 2016 in the US market. Contributions to adjusted EPS (earnings per share) should start in early 2017.
As an alternative to investing directly in Teva, you might consider pharmaceutical funds such as the iShares U.S. Healthcare ETF (IYH) and First Trust Health Care AlphaDEX ETF (FXH). The generic companies make up approximately 5.38% and 6.74% of the funds' total holdings, respectively .