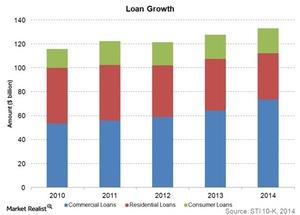 SunTrust Bank's Commercial Lending Experiences Strong Growth
By Rekha Khandelwal, CFA

Apr. 9 2015, Updated 12:40 p.m. ET
Commercial loans growing at a faster rate
Since 2010, the loan portfolio of SunTrust Bank (STI) has had a compound annual growth rate (or CAGR) of 3.5%. Commercial loans have had a CAGR of 8.2%, while the CAGR for consumer loans has been 7%. Residential loans, on the other hand, have declined at a CAGR of -4.5%.
The graph above shows SunTrust's loan growth by type of loan over the last four years.
Article continues below advertisement
Loan growth in line with industry trend
SunTrust's loan growth is broadly in line with the industry trend. As low demand for residential loans has continued, commercial loans have come to form a bigger portion of banks' portfolios. The commercial loan segment is also witnessing increased demand backed by strong economic growth expectations and a rise in business spending.
STI has provided more commercial and consumer loans to clients outside of its regional banking footprint compared to the increase in its total loan portfolio. This primarily resulted from loan growth in the Corporate and Investment Banking and National Consumer Lending businesses, which provide services nationwide.
Total loans grew at slightly above average rate
The total loan growth rate for SunTrust pales when compared to 8% CAGR since 2010 for JPMorgan Chase (JPM) and PNC Financial (PNC), or even when compared to the 6% CAGRs for Wells Fargo (WFC), Citigroup, and US Bancorp. You can learn more about JPMorgan Chase's loan growth in JP Morgan Leads in Loan and Deposit Growth.
However, SunTrust's 3.2% CAGR is slightly above average for large banks. The average CAGR total loan growth at large banks over the last five years has been 3%. For the same period, BB&T (BBT) had a CAGR of 2.7%. BB&T and SunTrust together form about 2.8% of the SPDR S&P Regional Banking ETF (KRE). STI makes up roughly 5.5% of the iShares US Regional Banks ETF (IAT).