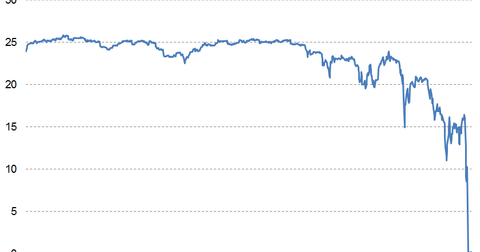 Risk Is a Permanent Loss of Capital
By Saul Perez

Updated
Buffett has unique views on risk
Measuring risk is difficult. In academic finance, what can't be measured is often meaningless. So, finance academics use volatility in pricing as a proxy for risk. Investor Warren Buffett doesn't believe in this definition of risk. Buffett doesn't think price drops matter. If your company selection is right and you can hold investments for a long enough time, eventually, you'll profit from them.
Article continues below advertisement
Fear of risk due to volatility leads to bad investment decisions
Buffett summed it up perfectly in a Berkshire Hathaway (BRK-B) letter to investors. He said if investors fear price volatility, erroneously viewing it as a measure of risk, they may end up doing some very risky things.
He gave the example of pundits who, six years ago, saw stock prices falling and advised investing in so-called safe Treasury bills or bank certificates of deposit. Investors who heeded this advice are now earning more meagre returns than they had previously expected.
If investors hadn't feared this price volatility, they could have earned good returns simply by investing in index funds or ETFs such as the iShares Core S&P 500 ETF (IVV) and the iShares Russell 2000 ETF (IWM).
Buffett has held stocks through down cycles
Buffett holds on to stocks he's confident in during down cycles and comes out the better for it over the long run. Wells Fargo & Co. (WFC) fell during the subprime crisis. IBM (IBM) fell throughout the dot-com bubble. Coca-Cola (KO) traded below its 1998 highs for the next 15 years. But Buffett held on. The KO stock finally rose above its 1998 highs in 2014. This long-term view of investment negates volatility in the short run and earns investors good returns.