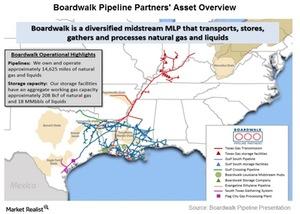 One-Year Unit Price Increases 15% for Boardwalk Pipeline
By Alex Chamberlin

Updated
Boardwalk Pipeline's one-year unit price goes up
Boardwalk Pipeline Partners' (BWP) unit price has increased ~15% in the past one year. In comparison, Sunoco Logistics' (SXL) unit price decreased ~5% in the past year, while DCP Midstream Partners' (DPM) unit price fell 27%. During the same time frame, MPLX LP's (MPLX) unit price went up 52%. DCP Midstream Partners and Sunoco Logistics together account for 7% of the Alerian MP ETF (AMLP).
Boardwalk Pipeline Partners is an MLP and thus offers common units. Common units offered to the limited partners (LP units) are traded in the exchange. General partners receive units called GP units, which are not traded in the exchange.
Article continues below advertisement
Overview of Boardwalk Pipeline Partners
Boardwalk Pipeline Partners (BWP) is an energy midstream MLP. It owns and operates natural gas and natural gas liquids (or NGL) pipelines. It also runs natural gas and NGL storage systems and gathers and processes natural gas.
Boardwalk Pipelines Holding Corp. (or BPHC), a subsidiary of Loews Corporation (L), owns BWP's general partner interest. BPHC owns ~53% of Boardwalk Pipeline Partners' common units.
By the end of 2014, Boardwalk Pipeline Partners (BWP) owned the following:
14,625 miles of natural gas and NGL pipelines
208 billion cubic feet (or Bcf) of working natural gas storage capacity
17.6 million barrels (or MMBbls) of NGLs
Boardwalk Pipeline's energy transportation pipelines run through the Gulf Coast region, Oklahoma and Arkansas, Tennessee, Kentucky, Illinois, Indiana, and Ohio.
Boardwalk's subsidiaries
Here are Boardwalk Pipeline's key natural gas pipeline and storage operating subsidiaries:
Gulf South Pipeline Company, LP (Gulf South)
Texas Gas Transmission, LLC (Texas Gas)
Gulf Crossing Pipeline Company LLC (Gulf Crossing)
Boardwalk Louisiana Midstream
Boardwalk Petrochemical Pipeline, LLC
Boardwalk Field Services, LLC (Field Services)
In the following section of this series, we'll look at the factors that drove Boardwalk Pipeline Partners' 2014 revenues and earnings.