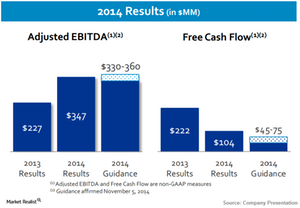 Oaktree Capital Enhances its Position in Dynegy by 28%
By Stuart McKenzie

Updated
Oaktree Capital's holdings in Dynegy
Oaktree Capital increased the number of its shares in Dynegy (DYN) in 4Q14, up from 7,928,800 in 3Q14 to 10,149,712. This is a 28% increase, according to the fund's recent 13F filing.
Dynegy is a 0.45% part of the iShares Russell 2000 Value ETF (IWN).
Article continues below advertisement
Overview of Dynegy
Dynegy acts as a holding company that operates via its subsidiaries. The company's primary business is the sale and production of electric energy. Dynegy offers wholesale power and ancillary services to municipalities, cooperatives, utilities, and other energy firms in five US states located on the West Coast, in the Northeast, and the Midwest.
The company's power-generation portfolio includes close to 13,000 megawatt of peaking, intermediate, and baseload power plants that are fuelled by a mixture of natural gas, fuel oil, and coal. Being diversified in terms of geographies and fuels help it mitigate risks associated with seasonal demand variations and regional fluctuations in fuel prices.
Fourth-quarter profit driven by higher prices
Dynegy posted a profit in 4Q14, boosted by higher rates in the company's coal-based generation business and the company's absorption of Illinois Power Holdings in 2013.
The company emerged from bankruptcy protection in late 2012. It reported a 4Q14 profit of $104 million over $91 million in the previous year. With the exclusion of certain items, Dynegy reported EBITDA (earnings before interest, taxes, depreciation, and amortization) of $67 million, up from $63 million reported in the same period a year ago.
Dynegy's debt-to-equity ratio is 2.7x. This is lower than peer Calpine's (CPN) value of 3.3x but higher than NRG Energy's (NRG) value of 2.0x.
Dynegy obtains federal approval of its Duke deal to boost generation
Dynegy is planning to close purchases announced in August 2014 to bolster its power-generation capacity. The company received authorization from the Federal Energy Regulatory Commission, or FERC, to proceed with the acquisitions.
The purchases will increase the company's holdings in the US Northeast and the Midwest. Among the acquisitions are EquiPower Resources and Duke Energy's (DUK) interests in retail business and generation assets.
The FERC approvals seem to have pleased Dynergy investors. Shares rallied by over 9% following the announcement.
The next part of this series will review Oaktree Capital's enhanced position in Ally Financial (ALLY).