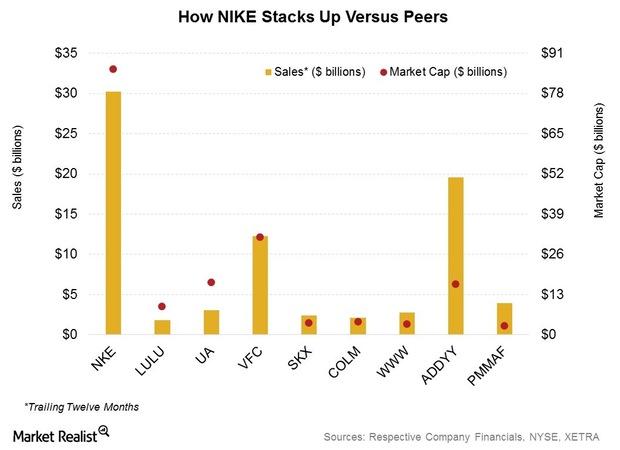 NBA Sponsorship Bid: An Adidas Timeout and a NKE and UA Jump Ball
By Phalguni Soni

Nov. 20 2020, Updated 3:48 p.m. ET
Understanding Adidas's on-court moves
In a March Portland Business Journal report, German sportswear firm Adidas (ADDYY) disclosed that it would not be bidding to renew its NBA apparel sponsorship deal, which expires in 2017. The estimated value of the 11-year NBA sponsorship deal was reported at ~$400 million.
Instead, the company plans to concentrate on new product development and expand its roster of star basketball athletes, both at the NBA and the collegiate level.
Article continues below advertisement
Turf wars
If Adidas decides not to bid, US rivals Nike (NKE) and Under Armour (UA) appear to be the favorites to grab the sponsorship rights. Nike is already the leader in basketball footwear, with over 90% market share in the US market (VOO), valued at ~$1.8 billion in the trailing 12 months through April 2014. More importantly, it's growing faster and becoming a more premium market over the years.
Under Armour is making quick strides in the apparel market. Last year, Under Armour grabbed the number two spot from Adidas in the US. This could be a battle à la Kevin Durant between Nike and Under Armour, which Nike ultimately won. While Nike has the deeper pockets to go after an NBA sponsorship deal, UA is likely to be keener for more visibility on what's inarguably Nike's turf. Plus, 3Q15 was the 14th straight quarter of double-digit growth for Nike's basketball category.
Challenging Nike's dominance
The move not to renew makes sense from Adidas's point of view. Adidas has been losing market share in the booming basketball footwear market to Nike as consumer (XLY) (RXI) demand for Nike's products keeps growing.
Nike is also expanding its signature footwear lines. The company launched the Kyrie 1 shoe last quarter, named after star basketball player Kyrie Irving of the Cleveland Cavaliers. Wholesale partners like Foot Locker (FL) are placing Nike's marquee brands prominently in its high-visibility retail displays, increasing their premium appeal.
An Adidas-orchestrated timeout
With Under Armour joining the game by launching the Stephen Curry signature line this year, competition is intensifying. It's becoming tougher for Adidas to recapture its market share. The success of Nike's and UA's signature offerings may also have spurred Adidas to change its strategy. Signing on more star NBA players and concentrating on developing product may help Adidas regain lost ground.