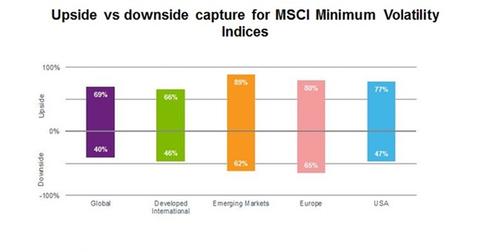 Minimum Volatility: Strategy for Market Ups and Downs
By Sara Shores

Updated
A strategy for market ups and downs.
Like all smart beta strategies, min vol blends aspects of traditional active and passive investing: active in that the strategies attempt to improve risk-adjusted return; passive in that portfolio construction is generally objective and based on pre-set rules.
The chart below illustrates this asymmetrical behavior: for example, over the last five years, the MSCI US Minimum Volatility Index has experienced only 47% of the downside return of the standard MSCI USA Index, but captured 77% of the upside. This potential for downside protection and upside participation is how min vol portfolios have delivered strong risk adjusted returns over the long term, with smaller bumps in the road.
Article continues below advertisement
Market Realist – Minimum volatility funds are the low volatility versions of the standard ones.
As you can see from the graph above, while the minimum volatility indices limit the downside returns of their standard index counterparts, they also capture a good chunk on the upside. This means the min vol indices give better risk-adjusted returns.
Min vol funds use screens to avoid high volatility stocks and capture the upside of the market while limiting the downside. The iShares MSCI USA Minimum Volatility ETF (USMV), invests heavily in consumer staples (XLP), health care (XLV) and technology (QQQ) stocks.
Another advantage of investing in min vol funds is that, an investor with a low risk profile, can invest in emerging markets (EEM)(VWO), without having to take extra risk, by investing in the iShares MSCI Emerging Markets Minimum Volatility ETF (EEMV). There are minimum volatility ETFs for other global indices (ACWI) as well, as the graph above shows.