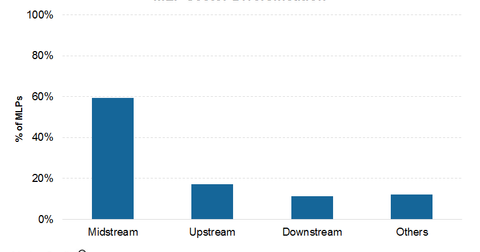 Why Midstream Companies Dominate the MLP Space
By Kurt Gallon

Updated
MLP sector diversification
Now that we're familiar with the MLP (master limited partnership) structure, let's discuss the industry participants, type of contracts, and value drivers in more detail. We'll discuss these throughout the next parts in this series.
Midstream companies meet the energy infrastructure's growing demand. Midstream companies dominate the MLP space. The fixed fee-based revenue generated from activities like gathering, processing, transporting, and storing commodities leads to a stable income stream. This allows MLPs to sustain and support an increase in the quarterly distributions.
Article continues below advertisement
The above graph shows that midstream companies account for more than 50% of the MLP space. Upstream and downstream companies only cover 28%. Very few upstream companies opt for the MLP structure. Their profits depend on how much energy they produce and the prices that the energy can be sold for—this exposes them to fluctuations in commodity prices.
Fee-based model
Usually, midstream MLPs operate toll or fee-based business models. They earn a set fee for each barrel of oil, cubic foot of natural gas, or ton of coal that's processed, transported, or stored—regardless of the hydrocarbon price. This is because MLPs typically don't own the oil or gas—just like a toll road doesn't own any cars.
MLPs usually go for long-term, fee-based contracts with their customers—five to 50 years in length. This creates a very stable income stream.
Midstream players
A few midstream MLPs include MarkWest Energy Partners (MWE), Regency Energy Partners (RGP), Energy Transfer Partner (ETP), and Plains All America Pipeline LP (PAA). Together, these companies account for ~27.5% of the Alerian MLP ETF (AMLP).
In the next part of this series, we'll discuss MLP contracts in more detail.