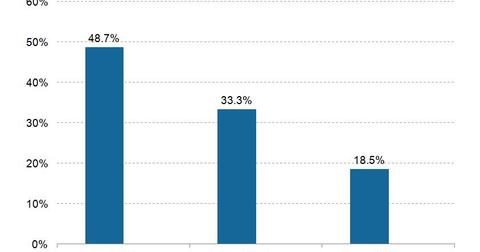 Microsoft's Bing: Search Ad Market Share Could Stagnate in 2015
By Patricia Garner

Apr. 9 2015, Updated 12:41 p.m. ET
Microsoft's search ad market share could stagnate in 2015
In the last part of this series, we discussed why Microsoft's (MSFT) share in the search ad market increased from 2013 to 2014. In this part of the series, we'll discuss why Bing's share in the search ad market could remain the same in 2015.
According to eMarketer estimates, Bing's share in 2015 could be similar to 2014. However, its search ad revenue should grow by 18.5%—as you can see in the following chart. Bing's growth in search ad revenue will be driven by its partnership with Apple (AAPL) on iOS 7 and iOS 8—we explained this in the last part of this series. The growth in Bing's search volumes could be offset by the decline in search volumes from Facebook and Yahoo. This would lead to virtually the same share as 2014.
Article continues below advertisement
Possible reasons for a decline in search volumes
During the fourth quarter, Facebook (FB) revamped its search offering. It allowed users to search past comments and other information posted by their friends on its site. Now, the company stopped including results from Microsoft's Bing search engine through the Facebook search. Earlier, Facebook's search results also included links to standalone websites provided by Bing.
In the fourth quarter earnings call, even Yahoo's (YHOO) CEO, Marissa Mayer, expressed her disinterest in continuing Yahoo's alliance with Microsoft. Mayer said that she's exploring different avenues with Microsoft. She's looking for alternatives.
Facebook and Yahoo's action could drive down Bing's search queries.
Investors who want to gain access to the technology sector can consider ETFs like the iShares Core S&P 500 ETF (IYW). Google, Microsoft, Yahoo, and Apple together account for 40% of IYW's portfolio.