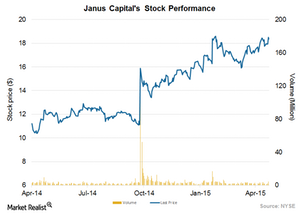 Janus Capital Group Reports 46% Rise in 1Q15 Profits
By Robert Karr

Apr. 28 2015, Updated 10:03 a.m. ET
Beats the estimate
Janus Capital Group (JNS) reported 2015 first-quarter net profits of $45 million, or $0.23 per diluted share, beating the Wall Street analyst estimate by 3 cents. The company's stock price has appreciated more than 60% since the hiring of Bill Gross from PIMCO (Pacific Investment Management Company). Net profits are up by 46% when compared with last year's first quarter. The company's equity business saw the strongest quarterly inflow in seven years.
"The story of this quarter is not so much about the Bill Gross and Myron Scholes that we've talked about in prior quarters, although that remains valid and very important to our future," said Richard Weil, referring also to a new chief investment strategist hired last July.
The focus of this quarter was more the firm's equity business. The division received $2.2 billion in new money, taking total average assets under management to $186 billion, up from $179 billion in the previous quarter and $173 billion a year ago.
Daniel Fannon, equity analyst at Jefferies, said in a research note on Thursday that the Janus earnings beat stems from lower-than-expected negative performance fees as well as operating margins of 28.9%, above Jefferies' 26.5% estimate.
Article continues below advertisement
Mutual fund business
Janus Capital Group provides investment management services to financial advisors, individuals, and institutional clients through mutual funds, other pooled investment vehicles, separate accounts, and sub-advisory relationships across the globe. Its product offerings include US and global equities, mathematical equities, fixed income products, and alternatives.
In the mutual fund division, it faces competition from domestic and global players such as T. Rowe Price Group (TROW), American Funds and Franklin Resources (BEN). The company is also in competition with alternative asset managers and ETF providers, including BlackRock (BLK), Federated Investors (FII), Vanguard, State Street (STT), Legg Mason (LM), Morgan Stanley (MS), Goldman Sachs (GS), Invesco (IVZ), and Affiliated Managers Group (AMG). Together these companies make up 9.66% of the Financial Select Sector SPDR Fund (XLF).