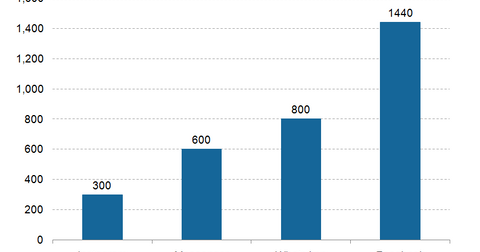 Facebook Enhances Its Platforms by Growing Its User Base
By Puneet Sikka

Updated
Facebook enhances its platforms
Facebook's (FB) family of platforms includes WhatsApp, Messenger, and Instagram in addition to Facebook's own platform. Its platforms continue to grow in size. According to the company, now 1.44 billion MAUs (monthly active users) visit its website or mobile app. WhatsApp has 800 million MAUs, while 600 million users visit Messenger and 300 million users visit Instagram every month. This growth is tremendous considering that Twitter's (TWTR) MAUs are still below 300 million.
During the last quarter, Facebook made a number of enhancements to its platforms to grow its MAUs. It introduced the WhatsApp calling feature. Users can make VoIP (Voice over Internet Protocol) calls for free.
Facebook also made a couple of important enhancements to its Messenger platform. It introduced a payments feature to Messenger. It allows users to transfer money to their friends. Facebook also launched the web version of its Messenger mobile app.
Article continues below advertisement
In regards to Instagram, Facebook reached a new milestone of 200 million daily active users on Instagram. During the earnings conference call, Facebook mentioned that Instagram is growing by more than a 100% YoY (year-over-year) rate in some countries—including Japan (EWJ), South Korea, and Indonesia.
Facebook continues to lead the US display ad market
The increasing user base directly helps an internet company drive its display advertising business. That's why investors consider it to be the most important metric for an internet company. Facebook is already the leader in the US display ad market.
According to a report from eMarketer, as of 2014, Facebook had about a 24% share of the US display ad market. In comparison, Google's (GOOG) (GOOGL) share was only 13%. Twitter and Yahoo (YHOO) continue to maintain their shares in the single digits.