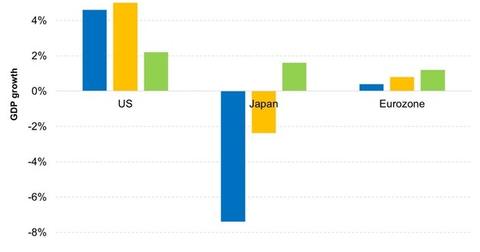 What the Disparity in Policies Means to Your Investments
By Sara Shores

Updated
Where we go from here
Volatility is born from uncertainty:  the heightened level of risk we see in capital markets is driven by the divergence across today's global economy. The catalysts for that divergence — conflicting central bank actions, disparate levels of economic growth across the globe and a long list of geopolitical risks — are unlikely to dissipate any time soon. This means that market volatility will likely remain elevated.
Article continues below advertisement
Market Realist – Disparity in policies caused volatile markets.
The graph above compares the annualized quarter-over-quarter GDP (gross domestic product) growth in the US, Japan, and the Eurozone for the last three quarters.
Currently, the US (VTI) is the only bright spot within developed markets (EFA). Its GDP grew at an annualized rate of 4.6%, 5%, and 2.2%, respectively.
Meanwhile, the Japanese (DXJ) and European economies (IEV)(VGK) have been grappling with recessionary pressures. The annualized growth rate in Japan for 2Q14, 3Q14, and 4Q14 was -7.4%, -2.4%, and 1.6%, respectively. The  negative growth in the second quarter was mainly due to the hike in consumption tax from 5% to 8%.
The European economy has seen very tepid growth rates since the financial crisis. Its GDP grew at the rate of 0.4%, 0.8%, and 1.2%, respectively, in the last three quarters. This divergence in growth rates is causing disparity in policies of major central banks.
Global stock markets (ACWI) are likely to remain volatile for the rest of the year. The probability of a rate-hike in the US is making markets wary. Back home, high valuations and a strong dollar (UUP) are the key headwinds.
That being the case, minimum volatility funds could be en vogue, as investors look for alternatives to reduce their portfolio volatility.