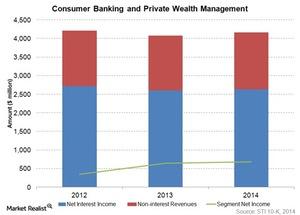 Consumer Banking and Wealth Management: SunTrust's Key Segment
By Rekha Khandelwal, CFA

Apr. 8 2015, Updated 4:06 p.m. ET
Business segments and competitors
SunTrust Bank (STI) operates in three business segments:
Consumer Banking and Private Wealth Management
Wholesale Banking
Mortgage Banking
Competitors Regions Financial (RF), BB&T (BBT), Bank of America (BAC), and Wells Fargo (WFC) offer all of the services that SunTrust Bank provides. RF, BBT, and STI together form about 4.1% of the SPDR S&P Regional Banking ETF (KRE). STI makes up roughly 5.5% of the iShares US Regional Banks ETF (IAT).
This article will focus on SunTrust's Consumer Banking and Private Wealth Management segment.
Article continues below advertisement
Consumer Banking and Private Wealth Management segment
Consumer banking offerings include deposits, bank cards, home equity loans, credit lines, auto loans, student lending, other lending products, and various fee-based services. The consumer banking section provides services to individual consumers and small businesses.
Private wealth management offers a range of products and services, including loans, deposits, brokerage accounts, investment management, and trust service. The private wealth management section provides solutions to ultra-high–net worth individuals and families. It also offers intergenerational wealth transfer strategies.
Rising net income
The graph above shows the Consumer Banking and Private Wealth Management segment's operating revenues and net income over the last three years.
In 2014, the segment's total revenues increased 2% compared to 2013. Rising wealth management-related fees drove this growth. Increased expenses partially offset this growth.
The segment's net income was up 7% compared to 2013. Higher revenues and a lower provision for credit losses drove this increase.
Lower provisions resulted primarily from a decline in home equity line and commercial loan net charge-offs. An increase in student loan charge-offs partially offset this.
Provisions across banks are decreasing based on declining charge-offs and defaults on loans. It makes sense to lower loss reserves as bad loans decline. With margins squeezed, banks are reducing provisions to boost income. However, these cuts are not disproportionate, so they shouldn't result in too much risk.
We'll say more about SunTrust Bank's asset quality later on in this series.