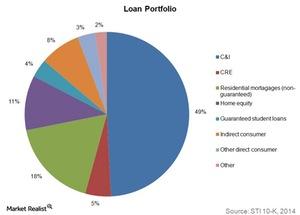 Commercial Segment Rules SunTrust's Loan Portfolio
By Rekha Khandelwal, CFA

Apr. 9 2015, Updated 12:40 p.m. ET
SunTrust's loan portfolio
The loan portfolio of SunTrust Bank (STI) has three segments: commercial, residential, and consumer. Commercial loans account for 55% of all STI loans. By comparison, the commercial loans of BB&T (BBT) and Regions Financial (RF) make up 44% and 62% of all loans, respectively.
The graph above shows breakup of SunTrust's loan portfolio by loan type. Commercial loans primarily include commercial and industrial (or C&I) and commercial real estate (or CRE) loans. C&I loans fund business operations and secure owner-occupied properties, corporate credit cards, and other wholesale loans. For CRE and commercial construction loans, repayment is largely dependent upon the operation, refinance, or sale of the underlying real estate.
Article continues below advertisement
Diversification and lower risk
STI believes that its loan portfolio is well-diversified by industry, product, client, and geographic location. Diversification across industries reduces the bank's exposure to a particular industry. It helps in controlling losses when the industry is not performing well.
JPMorgan Chase (JPM) and Bank of America (BAC) have well-diversified loan portfolios. Together, these two banks form about 13% of the Financial Select Sector SPDR ETF (XLF) and roughly 18% of the iShares Dow Jones US Financial Services ETF (IYG).
Residential loans
Primarily, residential loans include mortgages and home equity loans. Mortgages consist mostly of prime first-lien loans that are both government-guaranteed and nonguaranteed. Home equity products are lines of credit and closed-end loans.
Residential loans account for 29% of all SunTrust loans.
Consumer loans
Together, the following consumer loans make up 16% of SunTrust's total loan portfolio:
government-guaranteed loans
private student loans
direct auto loans
secured and unsecured loans
consumer credit cards
indirect loans secured by automobiles, boats, and recreational vehicles
In the next part of this series, we'll look at the growth of SunTrust's loan portfolio.