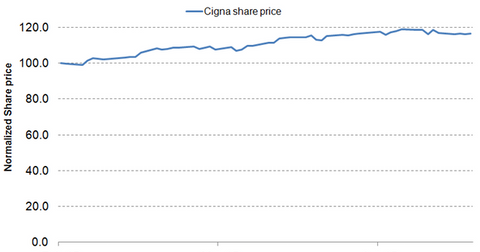 Cigna's Shares Up by 16.4% Since Its Previous Earnings Release
By Margaret Patrick

Updated
Cigna rose 16.4%
Cigna (CI) is expected to release its 1Q15 earnings on April 30, 2015. Since the release of its 4Q14 earnings on February 5, the company's shares rose by 16.4%, from $112.20 to $130.80. The S&P 500 Index increased by about 2.9% during that period.
Cigna's share price has been steadily rising since February 2015. This is attributed to the company's increasing MA (Medicare Advantage) enrollments, global expansion plans, and the effective implementation of the Cigna Collaborative Care program.
Article continues below advertisement
Cigna Collaborative Care
In the Cigna Collaborative Care initiative, the company partners with hospitals and physician practices, providing healthcare services to enrollees across the healthcare delivery spectrum.
The program has been rapidly expanding and added three North Texas–based medical groups in April 2015. Cigna Collaborative Care aims to improve health outcomes and the quality of health services while reducing the associated costs.
Increasing MA enrollments
Cigna witnessed an increase of about 9% in its Medicare Advantage (MA) enrollments, from 0.45 million in 1Q14 to 0.49 million in 1Q15. The spike in enrollments is expected to boost the company's revenue, which has improved investor sentiment.
The US federal agency Centers of Medicare and Medicaid Services (or CMS) also announced an average increase of 1.25% in MA payment rates for 2016. This announcement further boosted investor sentiment and is expected to lead to unexpected profits for Cigna (CI), Humana (HUM), Aetna (AET), and Anthem (ANTM).
Article continues below advertisement
Global expansion plans
Cigna declared that it has about $1.8 billion free cash available for capital deployment. The company announced plans to fund its global expansion initiatives, such as increasing its stake in India's Cigna TTK joint venture in 2015.
Wall Street analyst estimates
Cigna's revenue is estimated to be $9.3 billion, and its EBITDA (earnings before interest, tax, depreciation, and amortization) margin is expected to be about 9.0%. Its net income is expected to be around $480.6 million. Cigna's EPS (earnings per share) is estimated to be around $1.83.
We'll provide a follow-up report on Cigna after its earnings are released on April 30. We'll also cover the earnings reports for other health insurance companies (XLV). These companies include Aetna, with an April 28 release date for its 1Q15 earnings, as well as Anthem and Humana, which release their 1Q15 earnings on April 29.