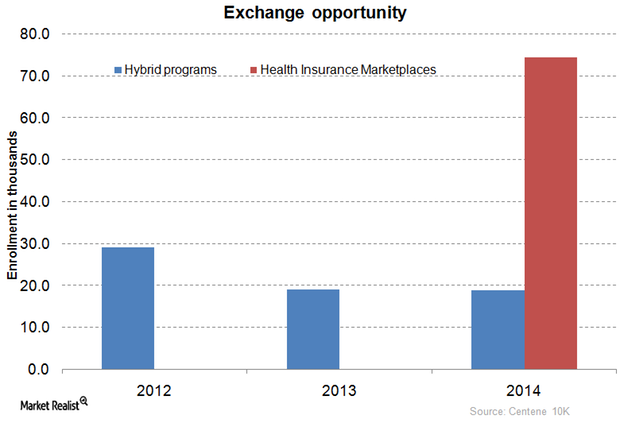 Centene: Insurance Exchange Opportunity and Hybrid Plans
By Margaret Patrick

Apr. 7 2015, Updated 5:08 p.m. ET
Exchange strategy
The private health insurance industry (IYH) adopted various distribution models to offer insurance products and educate customers. To reach individuals and the small employer segment in the US, health insurance companies—like UnitedHealth Group (UNH), Cigna (CI), Humana (HUM), and Centene (CNC)—employ insurance brokers or insurance consultants. Lately, these professionals have been selling insurance products mainly through health insurance exchanges.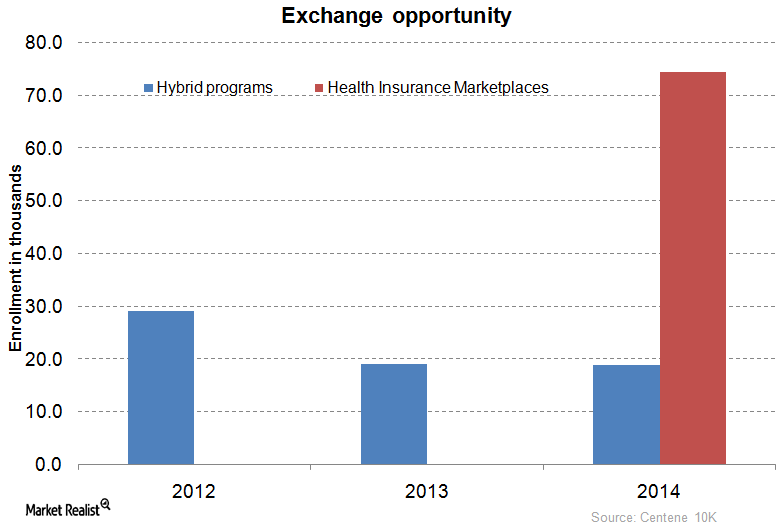 The above graph summarizes Centene's overall insurance exchange enrollments through:
federally-regulated marketplaces or public health insurance exchanges and hybrid plans
Medicaid plans bought through the different health insurance exchanges
Article continues below advertisement
Hybrid plans
Out of the total 29 states in the US that adopted the Medicaid expansion program, 24 states implemented the program as it was laid out by the Affordable Care Act. However, Arkansas, Iowa, Michigan, Pennsylvania, and Indiana received approval of the Section 1115 waiver to implement Medicaid expansion through the waiver. Each approved state implemented Medicaid expansion that's different from other states.
Arkansas was the first state to receive this approval from the U.S. Department of Health and Human Services, or HHS. The state operates the "private option" model and uses federal Medicaid dollars to offer subsidies to expanded Medicaid eligible people. Then, these people use the subsidies to purchase private insurance through health insurance exchanges.
Since the coverage provided through this model isn't equivalent to the coverage provided in the original Medicaid program, Arkansas provides "wraparound coverage." It pays an extra amount to ensure equal benefits. These plans have been termed as "hybrid plans." In 2014, Centene entered into a contract with Arkansas to participate in this program. The program is expected to expire in December 2015.
Article continues below advertisement
In addition, Centene also entered into contracts for hybrid Medicaid programs with Massachusetts, Texas, Indiana, and Wisconsin. However, these programs are different than Arkansas' "private option" model. Changes in the number of Centene's hybrid program enrollments are based on the expiration of these state-based contracts.
Health insurance marketplaces
In 2014, Centene entered the individual insurance market through Affordable Care Act marketplaces. The company participated in marketplaces in certain regions of Arkansas, Florida, Georgia, Indiana, Massachusetts, Mississippi, Ohio, Texas, and Washington. In 2015, the company will also operate in Illinois and Wisconsin.