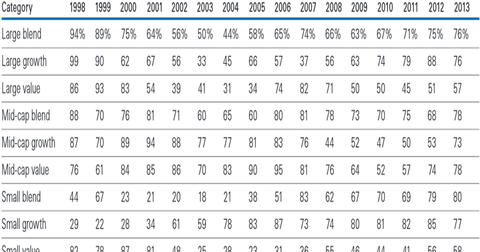 Big Investors Have No Real Advantage over Small Investors
By Saul Perez

Updated
Size of investment is irrelevant
Often, small investors think that big investors are better equipped to invest. Investor Warren Buffet says this isn't so. This way of thinking is just a psychological bias.
When you see someone introduced as an expert on national television you are more likely to believe him. The keyword here is "believe." You believe because he's on television and has been introduced as an expert. It may well turn out that he doesn't know much about investing at all. Buffett believes that's often the case.
Article continues below advertisement
Benefits of being a smaller investor
In fact, smaller investors have one big advantage. Their buying size is small. This means they can buy and sell shares on the stock exchange without impacting the price of the stock. Bigger investors, whose buy or sell volumes often account for a substantial part of a day's volume, can't do so without impacting the market for that particular stock.
A smaller investor can build a position on any day in Coca-Cola (KO), Wells Fargo & Co. (WFC), or IBM (IBM). A bigger investor needs to plan his purchases due to large portfolio allocations. As a result, the smaller investor can be more nimble.
Big investors are also likely to have more biases. The most important of these biases is the bigger investors' self-perceived authority to invest. As Buffet always says, very few people are humble enough to acknowledge their limitations.
Buffett always reminds himself of this bias as a big investor. He tries to remain grounded. This has helped Berkshire Hathaway (BRK-B) achieve a stellar performance record. Berkshire has beaten the returns of the iShares Core S&P 500 ETF (IVV) and the iShares Russell 2000 ETF (IWM) over the long run. Remaining grounded should help smaller investors too.