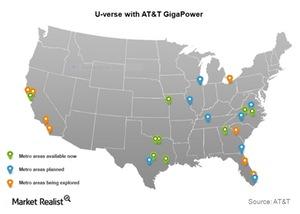 AT&T Has Been Expanding U-verse with Its GigaPower Offering
By Ray Sheffer

Apr. 17 2015, Published 12:54 p.m. ET
Current availability of U-verse with ATT GigaPower
In the last part of this series, we learned about U-verse with AT&T GigaPower's expansion to the Atlanta metro market on April 13, 2015. The GigaPower service started recently, on April 6, 2015, in another metro market—Houston. According to the AT&T's press release, this service will cover select locations in areas including Houston, Bellaire, Northwest Harris County, and Pasadena.
As you can see in the above figure, with the launch of the service in the Atlanta metro market, GigaPower is now available in a total of nine metro markets. These metro markets are Atlanta, Houston, Cupertino, Fort Worth, Dallas, Kansas City, Raleigh-Durham, Winston-Salem, and Austin. Austin was the first market where the GigaPower services were available in December 2013.
Article continues below advertisement
Planned deployment of U-verse with AT&T GigaPower
AT&T has made significant progress in the implementation of its GigaPower services since the company announced the planned expansion of the service on April 21, 2014. At that time, only Austin was a fiber-based market.
AT&T plans to offer this service in the eight metro markets where the service is currently not available. These markets are San Antonio, Miami, Nashville, Chicago, St. Louis, Jacksonville, Greensboro, and Charlotte.
U-verse with AT&T GigaPower
U-verse with AT&T GigaPower is a high-speed Internet offering of AT&T (T) with a maximum speed of 1Gbps, or gigabyte per second. Like Verizon's (VZ) FiOS, GigaPower is an FTTH, or fiber-to-the-home Internet solution.
FTTH solutions help these telecoms provide Internet speeds comparable to, or higher than, the speeds offered by cable companies such as Comcast (CMCSA), and Time Warner Cable (TWC). U-verse with AT&T GigaPower is also available with bundled video and voice products.
Instead of directly investing in the stock, you can take on diversified exposure to AT&T by investing in the Sector SPDR Trust SBI Interest (XLK). The ETF held ~4.2% in the carrier on March 31, 2015. Also, you can take a more diversified exposure to AT&T by investing in the SPDR S&P 500 ETF (SPY). This ETF held ~0.9% in the carrier on the same date.