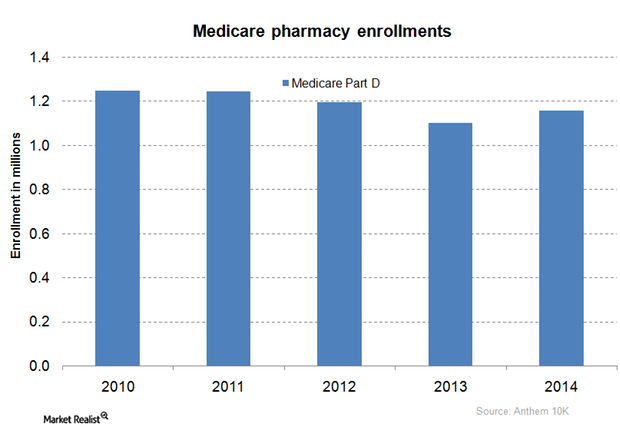 Anthem's Suite of Pharmacy Services
By Margaret Patrick

Apr. 7 2015, Updated 2:06 p.m. ET
Prescription drug coverage
Anthem (ANTM) offers prescription drug coverage to Medicare beneficiaries through stand-alone Medicare PDPs (prescription drug plans). MA-PDPs (Medicare Advantage prescription drug plans) cover Medicaid beneficiaries and the company's employer-sponsored members.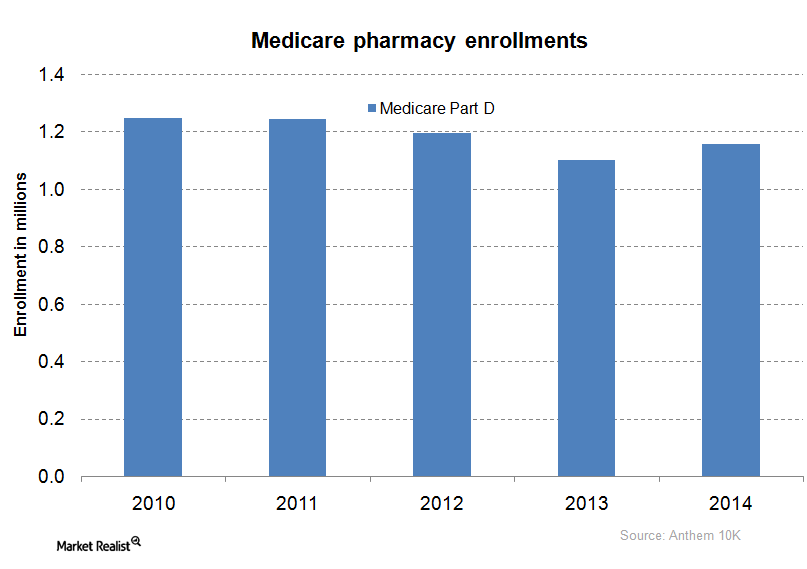 CMS (Centers for Medicare and Medicaid Services) contracts with health insurance companies authorized to provide Part D benefits. These include companies such as Anthem, Humana (HUM), UnitedHealth Group (UNH), and Cigna (CI). CMS subsidizes their prescription drug costs. Medicare beneficiaries can purchase either privately offered PDP plans that provide only prescription drug coverage or MA-PDP plans, which are combined medical and drug policies.
Anthem also markets an integrated prescription drug product to its fully insured and self-insured commercial enrollment. Known as the PBM (pharmacy benefit management) business, this plan features drug formularies, a pharmacy network, and mail-order capabilities.
Anthem has delegated certain administrative services to Express Scripts under a ten-year contract. Express Scripts manages the network of retail pharmacies, operates mail-order pharmacies, and processes prescription drug claims for Anthem.
Article continues below advertisement
Drug formulary
Every PBM maintains a formulary—a list of prescription drugs covered by a health plan. The formulary is divided into as many as four tiers. The cost of drugs increases in each successive tier—from the least costly generic drugs, to preferred brand name drugs, and finally, to expensive non-preferred brand name drugs. Health insurance carriers (IYH) attempt to reduce their expenses by favoring less expensive drugs.
Pharmacy benefit management revenue model
Manufacturer discounts and rebates are a major source of PBM revenue. PBMs negotiate for discounts on the AWP (average wholesale price) of generic and brand drugs. This is the average price that drugs are purchased at on the wholesale level from drug manufacturers. In exchange, manufacturers demand their drugs be included in the health plan's formulary. This guarantees increased sales.
Discounts are offered to PBMs with mail-order pharmacies. They can store and control the distribution of the drugs. However, rebates are only offered on branded drugs. They include access and performance rebates. An access rebate is given if the drug is included as a preferred drug in the formulary. A performance rebate is given if the market share of the drug increases.
Generally, only part of the discounts and rebates received by a PBM is passed on to plan enrollees. The rest is retained as commission for providing middleman services.