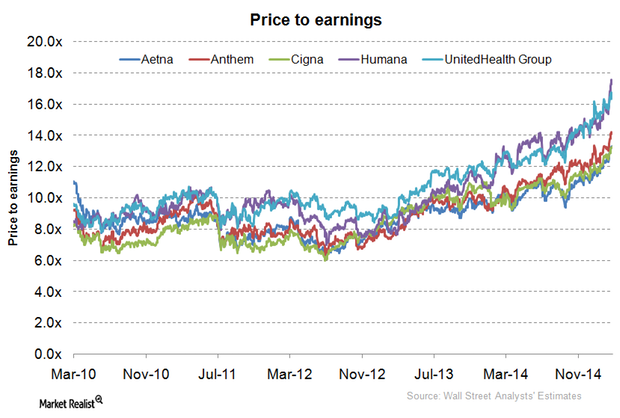 Anthem Valuation Under Pressure
By Margaret Patrick

Dec. 4 2020, Updated 10:52 a.m. ET
Price-to-earnings value
The private insurance industry's core business involves providing medical risk protection in exchange for predetermined payments. Investors generally use a forward price-to-earnings, or PE, ratio to compare valuations and determine the best-performing private health insurance company.
Article continues below advertisement
Anthem's valuation
The above graph shows that Anthem (ANTM) is trading at PE levels below those of Humana (HUM) and UnitedHealth Group (UNH) but at levels higher than Cigna (CI) and Aetna. Though Anthem has delivered healthy returns to its shareholders, its valuation remains subdued mainly because it has fewer government-sponsored enrollments and higher financial leverage.
Commercial enrollments
About 78% of Anthem's enrollments are either employer-sponsored or individually insured members. Employer-sponsored coverage has been on a downward trajectory. Only 54% of the population had this type of coverage in 2013, down from 61% of the population in 1987.
Also, the possibility that tax benefits for employer-sponsored health benefits will be eliminated, as well as the introduction of the Cadillac tax, are reducing the opportunities in this business. To learn more about this topic, please read How will the Cadillac tax affect the hospital industry?
Article continues below advertisement
Government enrollments
In the government-sponsored business, Anthem is mainly focused on Medicaid enrollments, which account for about 13.8% of the company's total enrollments. The company has made strategic acquisitions, such as Amerigroup and Simply Healthcare Holdings, to further strengthen its Medicaid business.
However, effective January 2014, the Supreme Court permits states to opt out of the Medicaid expansion program. A number of states with large numbers of Anthem's Medicaid customers have indicated they will be opting out of the Medicaid expansion program. This has led to a reduction in synergies and growth opportunities for Anthem and has depressed investor sentiment.
Financial leverage
Banks generally require the debt-to-capital ratio of health insurance companies (IYH) to fall in the range of 25% to 35%. Anthem's debt-to-capital ratio was 38.5% in 2014, which is greater than the targeted range. This has put more pressure on the company's valuation.