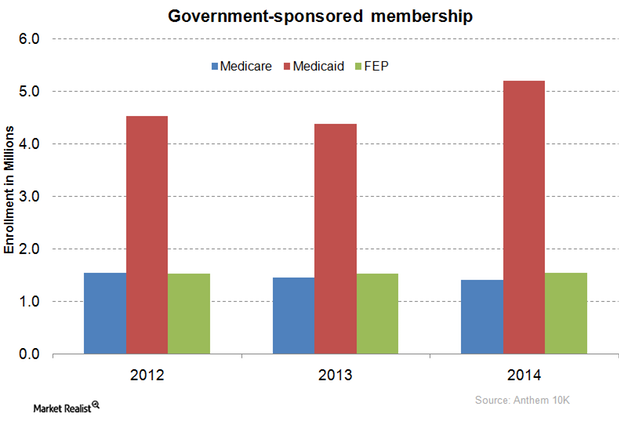 Anthem: Managing Government-Sponsored Health Insurance
By Margaret Patrick

Apr. 7 2015, Updated 10:07 a.m. ET
Government-sponsored business
Anthem offers MA (Medicare Advantage), Medicare Prescription Drug Plan and Medicaid Services, NGS (National Government Services), and services provided to the federal government in connection with the FEP (Federal Employee Program).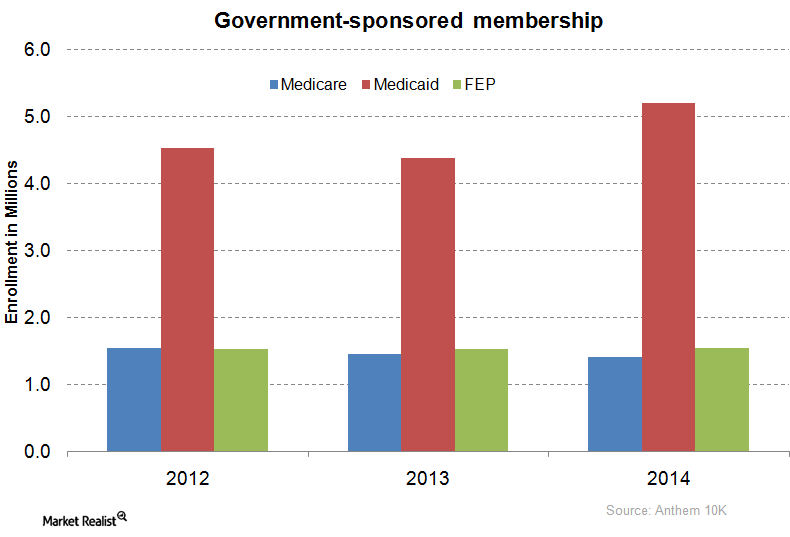 The above graph shows Anthem's government-sponsored enrollment breakdown. The company's Medicaid enrollments exceed those under Medicare and FEP plans.
Article continues below advertisement
Managed Medicaid
Health insurance companies such as Humana (HUM), UnitedHealth Group (UNH), Cigna (CI), and Anthem (ANTM) contract with state governments to provide health insurance services related to several public programs. These programs involve Medicaid, TANF (Temporary assistance for Needy Family), SPD (seniors and people with disabilities), LTSS (long term services and support), CHIP (Childrens' Health insurance programs), and Medicaid expansion-related beneficiaries.
Anthem provides Medicaid and other related services in California, Florida, Georgia, Indiana, Kansas, Kentucky, Louisiana, Maryland, Massachusetts, Nevada, New Jersey, New York, South Carolina, Tennessee, Texas, Virginia, Washington, West Virginia, and Wisconsin.
To expand its footprint in the Medicaid market, in December 2014 Anthem announced the acquisition of Simply Healthcare Holdings, a leading managed care company for people enrolled in Medicaid and Medicare programs in Florida. This acquisition strengthens the company's position in the government-sponsored market.
Article continues below advertisement
Medicare
Anthem provides MA services—the substitute for the original Medicare and Medicare Part D services—for prescription drug coverage to its members through the company's subsidiaries such as Amerigroup and CareMore. Dually eligible customers, who are low-income seniors and persons under the age of 65 with disabilities, are enrolled in MMPs, a separate category of managed care products.
Aside from fully insured Medicare products, the company also offers administrative services to the original Medicare program through its subsidiary, NGS.
Federal Employee Program
As part of the BCBSA (Blue Cross Blue Shield Association), a federation of 37 health insurance companies (IYH) in the US, Anthem has members from the FEP program. These members are included in a national contract between BCBSA and the Office of Personnel Management.