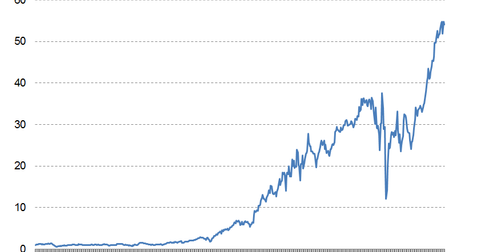 Acquisitions Should Be Treated with Circumspection
By Saul Perez

Updated
Acquisitions don't normally create value
Investor Warren Buffett has always treated companies that make acquisitions with suspicion. The main reason why is that acquisitions are often carried out for unsound business reasons. Many acquisitions are also quick fixes that end up destroying long-term investor wealth. In fact, financial studies bear this out. Most acquisitions destroy value rather than create it.
Article continues below advertisement
Manager's envy leads to most acquisitions
If a business isn't growing its sales, the easiest solution is to acquire a competitor. More often than not, acquisitions are made to show good figures to the board of a company. Sometimes, management salary is linked to the short-term performance of a company. This too provides perverse incentive for management to acquire.
Today, leveraged buyout options are also available. In a leveraged buyout, a high amount of debt is taken on to acquire companies. Leveraged buyout performance is even poorer. CEOs often forget the price versus value fundamental when acquiring. The price paid is so far removed from reality that most acquisitions don't even have a chance to succeed at the outset. By "succeed," we mean add incremental value to the acquirer.
Wells Fargo & Co.: A smart acquirer creating value from acquisitions
Berkshire Hathaway (BRK-B) always keeps the price versus value equation in mind when making acquisitions or when investing in a company with a history of acquisitions.
Wells Fargo & Co. (WFC) is the largest holding in Berkshire's portfolio. It also accounts for 1.39% of the iShares Core S&P 500 ETF (IVV). Wells Fargo has a history of acquiring smaller banks. But, Wells Fargo has always been smart about acquisitions and has consistently created value with them. The same can be said of some of Berkshire's other holdings such as IBM (IBM) and Coca-Cola (KO).
If investors follow Buffett's ten commandments of investing, they're likely to become better investors.