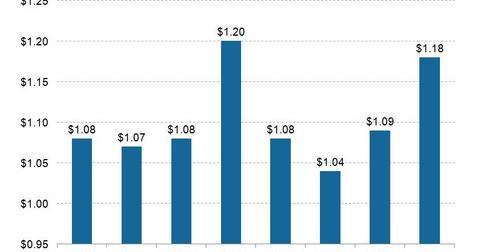 Yahoo Strives to Compete in Online Advertising Market
By Patricia Garner

Updated
Yahoo and online ads
Yahoo (YHOO)  has been trying hard to compete in the online advertising market where Google (GOOG) and Facebook (FB) have managed to make rapid strides. In this series, we'll take a look at Yahoo's efforts to grow its business.
In our previous series on Yahoo (YHOO), What you can expect from Yahoo's 4Q14 earnings, we provided an overview of what investors can expect from Yahoo's fourth quarter earnings. We also looked at Yahoo's third quarter results and the company's guidance for its fourth quarter earnings.
Yahoo's stock has gone up by 23.63% in the last year, while the iShares Core S&P 500 ETF (IVV) has gained only 14%. IVV is an ETF that tracks large-cap US equities.
In this series, we'll take a closer look at Yahoo's Q4 earnings announced on January 27. Yahoo's stock remained relatively flat in February. Comparatively, Facebook's (FB) stock was up 7%, and Google's (GOOG) stock was down 3% since it missed its earnings estimates.
Article continues below advertisement
Yahoo just misses revenue estimates
Yahoo's Q4 earnings were rather flat. The company reported GAAP (generally accepted accounting principles) revenue of $1.25 billion and full year 2014 GAAP revenue of $4.7 billion. Both were nearly flat year-over-year, down approximately 1%.
On a revenue ex-TAC (or traffic acquisition costs) basis, Q4 revenue was $1.18 billion, down approximately 2% year-over-year. This was due largely to increased TAC in the search business. Full year 2014 ex-TAC revenue was $4.4 billion, down less than 1%.
This modest decline of 1% to 2% year-over-year in revenue was because revenue declines from legacy PC businesses were offset by increased revenues from investments in newer areas such as mobile, social, video, and native.
Yahoo reported EPS of $0.30, beating Wall Street's estimate of $0.29. Yahoo's ex-TAC revenue of $1.18 billion marginally missed analysts' estimates of $1.19 billion.
Yahoo makes up 1.1% of the iShares US Technology ETF (IYW). Investors can gain portfolio exposure to Yahoo by investing in this ETF.
In the coming parts of the series, we'll take a look at how some of Yahoo's core businesses performed in the fourth quarter.