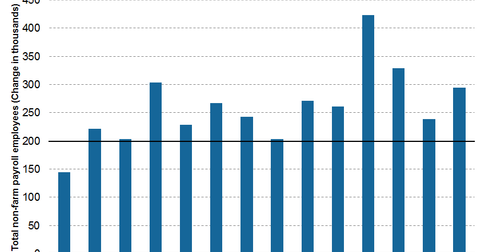 Why Friday's Jobs Report Sent the Markets into a Tizzy
By Rick Rieder

Updated
Rick Rieder weighs in on what the better-than-expected jobs numbers mean for the economy and investors.
Friday's jobs report was another dose of good news for the U.S. economy.  While most indicators had already pointed towards a positive report, the numbers came in stronger than expected, with some important implications for Federal Reserve policy.
Market Realist – Good economic news is a likely tailwind for the stock markets. However, the opposite held true. Friday's jobs report sent the markets into a tizzy.
Article continues below advertisement
The Bureau of Labor Statistics released its employment situation summary report on Friday. The US economy added 295,000 jobs in February. This is a much higher figure than the 240,000 jobs that the analysts were expecting. The stronger-than-expected jobs report came in even as the economy grappled with a tough and exceptionally cold winter. The previous graph shows the additions to the US non-farm payrolls over the past year.
The stronger-than-expected data is good news for the economy. However, Friday's jobs report sent the markets into a tizzy. The reason was that the strong labor market was taken as a cue for the Federal Reserve (or Fed) to start hiking rates. It isn't a secret that the Fed intends to hike rates this year. However, the strong labor market indicators have made many believe that the Fed might move to hike rates as early as June or September. This is sooner than the market expectations.
Article continues below advertisement
The S&P 500 (SPY) (IVV) fell 1.4% to a three-week low of 2,071 on Friday. All of the three major broad market indices registered weekly losses. The Dow Jones Industrial Average (DIA) declined 1.5% to end the week at 17,856. NASDAQ (QQQ) fell by 0.7% to 4,927 for the week ending March 6, 2014. The bond markets were also spooked as yields rose and the price fell.
Yields for ten-year Treasuries (IEF) rose to a ten-week high of 2.259% on Friday. Yields on 30-year US Treasuries (TLT) posted their largest daily gain since July 2013. The upward movement of the US yield curve can be seen in the previous graph.
In this series, we'll explore the key takeaways from Friday's jobs report and how the employment report will likely affect the Fed's policy. We'll also discuss the possible headwinds and tailwinds for the Fed's rate hike. We'll analyze how investors can prepare themselves for an impending rate hike.