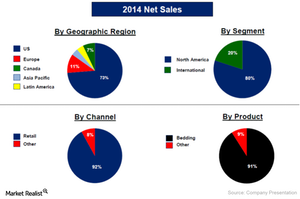 Unfavorable currency exchange rates impact Tempur Sealy's results
By Adam Rogers

Mar. 11 2015, Updated 2:06 p.m. ET
Tempur Sealy's results for 4Q14
In February 2015, Tempur Sealy International Inc. (TPX) announced its 4Q14 and full year 2014 results. EPS (earnings per diluted share) under GAAP (generally accepted accounting principles) in 4Q14 was $0.75 compared to $0.44 in 4Q13. The company said, "The 2014 results reflect integration costs, and certain non-recurring items, including financing costs and income from a partial settlement of a legal dispute."
Adjusted EPS saw an increase of more than 30% to $0.86 in 4Q14 compared to adjusted EPS of $0.66 in 4Q13. Adjusted EPS was negatively impacted by $0.06 due to a stronger US dollar. The company reported a net income of $46.6 million for 4Q14 compared to $27.5 million in 4Q13.
Sales grew 9.9% to $745.5 million compared to $678.1 million for the same period in 2013. On a constant currency basis, sales increased 12.8% year-over-year.
TPX saw growth in each of its three business segments in 4Q14. Gross margin decreased to 39.5% in 4Q14 compared to 40.2% in 4Q13, and margins in the three TPX business segments declined as well. Operating income was steady at $76.5 million in 4Q14 compared to $74.1 million in 4Q13.
Article continues below advertisement
Double-digit growth in 2014 sales
Tempur Sealy (TPX) reported net sales of $2.9 billion for full year 2014, an increase of 21.3% when compared to net sales of $2.46 billion for 2013. In the absence of currency fluctuations, annual sales increased by more than 23% for the year 2014. The growth was driven by the three segments as well as the inclusion of Tempur Sealy's results.
Net income for the year was $108.9 million in 2014 compared to $78.6 million in 2013. Adjusted EPS for the year was $2.65 compared to adjusted EPS of $2.38 in 2013. But gross margins declined from 41.2% in 2013 to 38.5% in 2014, mainly due to an increase in costs in all three segments.
TPX stated, "In 2014 strong sales growth was driven by new products and effective marketing, particularly in the US, and we broadened our distribution throughout the world. We generated opetrating cash flow of $225 million and significantly reduced our total debt."
Tempur Sealy's PE (price-to-earnings) ratio is 22.9x. Competitor Bed Bath & Beyond's (BBBY) PE ratio is 15.56x, and Select Comfort's is 24.97x.
TPX has a 2.97% exposure o the SPDR S&P Homebuilders ETF (XHB). SCSS has a 0.10% exposure to the iShares Russell 2000 ETF (IWM), and Bed Bath & Beyond (BBBY) has an exposure of 0.07% to the SPDR S&P 500 ETF (SPY).
IWM tracks the performance of around 2,000 publicly listed companies in the growth sector, and SPY tracks 500.
In the next article in this series, we'll look at Tempur Sealy's (TPX) decline in operating margins.