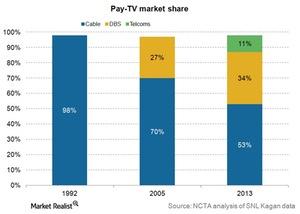 Telecoms and DBS take pay TV market shares from cable
By Ray Sheffer

Updated
Pay TV market shares
In the earlier parts of this series, we learned about media networks and film studios, which are essential components of the media sector. In this part of the series, we'll focus on pay television, another important media subsector, and how pay-TV market shares are changing.
Pay TV is a subscription-based commercial television service. In terms of the value chain, pay-TV providers are the distributors of media content.
Cable companies and DBS (direct-broadcast satellite) providers have traditionally been the key players in this market. Now telecom companies that provide IPTV (Internet Protocol television) services are also significant players in the market.
Telecom companies have significantly upgraded their broadband networks, which helps them provide high-quality IPTV services and gain more pay TV market shares.
Article continues below advertisement
Unique modes of distribution
Cable companies such as Comcast (CMCSA) and Time Warner Cable (TWC) primarily use their wired networks to reach consumers. A wired network includes coaxial cables and fiber.
DBS companies such as DirecTV (DTV) and Dish Network provide pay television to consumers through their own or leased satellites.
Telecoms provide IPTV services such as Verizon (VZ) FiOS and AT&T's (T) U-verse through fiber or a combination of fiber and copper networks.
Declining market share of cable's pay-TV subscribers
Cable is the oldest provider of pay-TV services. It was followed by satellite pay-TV providers and later telecoms. As you can see from the above chart, subscriber share of telecoms and satellite providers represented ~45% of total subscribers in 2013. This is significant considering the dominance of cable TV in 1992.
You can take a diversified exposure to cable companies such as Comcast (CMCSA) and Time Warner Cable (TWX) by investing in the Consumer Discretionary Select Sector SPDR Fund (XLY). The ETF held a total of ~8.4% in these companies as of March 2, 2015.