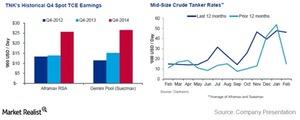 Teekay Tankers's spot tanker rates, spot market exposure
By Katie Dale

Updated
Spot tanker rates
Teekay Tankers (TNK) CEO Kevin Mackay noted that in the past three months, the average crude spot tanker rates were at the highest levels since the strong winter tanker market of 2008. Seasonal factors like increased oil demand and winter weather delays positively affected the tanker demand.
Falling oil prices strengthen the crude spot tanker market due to the strategic and commercial stockpiling of oil and higher refinery throughput. Also, the development of a contango oil price structure has recently encouraged floating storage.
Article continues below advertisement
Recent spot earnings
As compared to 4Q13, Teekay Tankers's 4Q14 earnings for Aframaxes outperformed by approximately $10,500 per day and $11,200 per day for Suezmaxes. Also, these levels are the highest fourth quarter earnings since 2008.
The rise in spot earnings will also benefit peer companies like Frontline Ltd. (FRO), Nordic American Tanker Ltd. (NAT), DHT Holdings (DHT), and Teekay Corporation (TK). Investors who want exposure to the tanker sector, as well as other industrials, can invest in the iShares S&P 500 Index ETF (IVV).
Globally, mid-sized tanker rates over the last 12 months have averaged almost $9,000 per day higher compared to the earlier 12 months. While the rate at the start of 2014 dropped off from the dramatic winter spike, rates in the first weeks of 2015 have only marginally softened as Teekay Tankers enters period of seasonal refinery maintenance.